The BACK touring party and crew are taking actions to minimise the environmental impact of the tour where possible. We'll let you know what we are doing, how it's going, and also what people can do in each city we travel to, as we go.
Back Tour – Greening Projects
Seed Paper Postcard
Stick it on your fridge or plant in a pot and watch your Swan River Daisy grow. Available from the Merchandise Desk on all Australian dates (sorry Kiwis, N/A in NZ due to government restrictions). All proceeds go back into greening initiatives on the BACK Tour.
A word from the printer:
"At Paper-Go-Round we collect recycled office paper from schools, local businesses and printers & upcycle almost 100KG every week. We re-pulp the waste paper & embed with seeds from Aussie farms to create our beautiful handmade seed paper that grows!"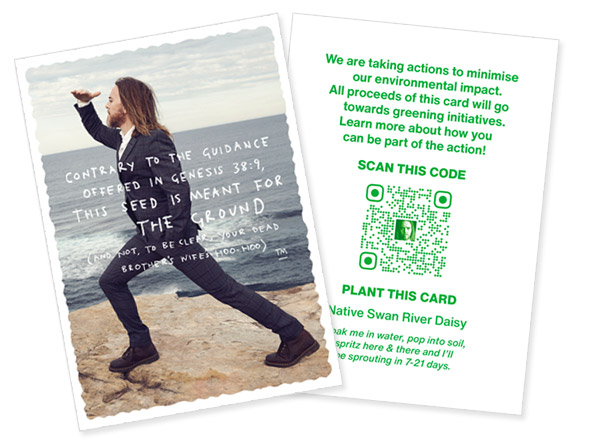 Up-cycled BACK Merchandise
Our 2020 tour was rudely interrupted by Covid – this left us with unsold BACK stock, so rather than sending it to landfill, Tim got out the red pen!
Available only at the Adelaide Merchandise Stand on June 12th and 13th and only while stocks last.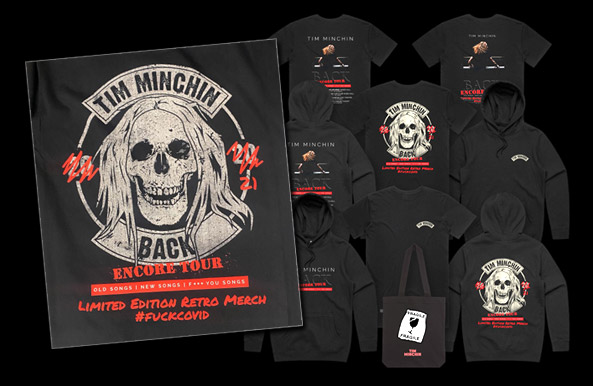 Ways to get involved in…
New Zealand
Love Food Hate Waste
The average Kiwi family throws away three shopping trolleys of edible food each year. The Love Food Hate Waste NZ  campaign provides tips on how to reduce food waste. For inspiration on replacing single use plastics with reusables head to Plastic Free July Aotearoa.
Wellington
Restoring and protecting habitat
Conservation Volunteer NZ projects focus on restoring wild places and protecting the natural environment. Volunteers can get involved in tree planting, walking trail construction, plant propagation, weed control and protecting threatened species.
Sustainability Trust
Sustainability Trust is a social enterprise on a mission to halt the impact of climate change. Focused on the Greater Wellington region, they provide sustainability advice, e-waste recycling and other recycling programmes, events and education. They also have a range of free and paid services to help people create healthier homes and use energy and resources more efficiently.
Auckland
Register for a Planting Day
The second phase of Auckland's Mayor's Million Trees project aims to plant 1.5 million trees and shrubs across the region over three years. The trees and shrubs planted create carbon sinks to help reduce emissions and reduce siltation into Auckland's harbours and waterways. Visit One Million Trees to register for a planting day this year to celebrate Matariki and help green Auckland.
Support a community bush restoration project
CUE Haven is a community project in northwest Auckland to restore an old dairy farm to a native New Zealand Forest.  Since 2008, volunteers have planted over 170,000+ native trees and assisted with weed and pest control and constructed over 3.5 km of walking tracks and boardwalks.  The restoration of the property has brought back native birds and the stream on the property is now flourishing with aquatic life.  Find out more about the project and how you can help at CUE Haven.
Christchurch
Look after coastlines and waterways
The Sustainable Coastlines team are on a mission to look after the coastlines and waterways, working with their sleeves rolled up to keep them healthy and beautiful. Check out their three core programmes, clean-up events, educational programmes, public awareness campaigns, and riparian planting projects. They are working with volunteers, interns, ambassadors, and local community groups to enable them to deliver these activities in their own communities.
Ōtūkaikino Creek Planting Day
Join the Tree Planting, Waimakariri on Saturday the 7th of August alongside the Ōtūkaikino Creek that flows into the Waimakariri River. The Waimakariri River is the source of over 75% of the drinking water for Christchurch so get involved to give this iconic waterway some much-needed aroha! Sustainable Coastlines have various other tree-planting days coming up around the country, check them out here.
---
Adelaide
Join in on planting habitat for wildlife this June
Bio·R reconstructs habitats to support declining native wildlife. Our activities are informed by research, reconnect the community with our natural environment and celebrate the good work we do together.
Plant local species down south with Biodiversity McLaren Vale
Biodiversity McLaren Vale is a collaboration between community, industry and government that aims to double the biodiversity of the McLaren Vale wine region. Putting volunteer feet on the ground the first Sunday of every month to either, depending on the season, remove woody weeds or to plant local species in their place. Then stop for a bite to eat, a small tipple of the landowner's finest and a chat with our fellow Biodiversiteers.
Support local producers and market gardens
Get a veg box delivery from farmers like Village Greens, or visit a local Farmers' Market.
Move more sustainably within the city
EcoCaddy are doing great things in the transport sector, providing zero-emissions transport, delivery, and fun tours in Adelaide with their fleet of electric-assisted rickshaws.
Sustainability events and workshops
The Adelaide Sustainability Centre aims to inspire, connect and support collective learning and community action for a sustainable future. Find out more about upcoming events and projects via their Facebook and website.
Protecting Adelaide's Tree Canopy
Stay up to date with info on campaigns and projects at Conservation Council SA, an independent, non-profit, and non-party-political peak body organisation representing around 60 of SA's environment and conservation organisations.
Keep South Australia Beautiful
KESAB (Keep South Australia Beautiful) was founded as a litter reduction campaign in 1966 and is now SA's leading not-for-profit organisation delivering community-based environmental and sustainability education programs. Join KESAB for a workshop or activity to improve, preserve and protect the environment.
Adelaide Sustainable Building Network
The ASBN are passionate advocates for regenerative built environments in SA. They promote, educate, and connect to empower South Australians towards realising sustainable and regenerative cities, neighbourhoods, buildings and homes.