When I Grow Up is the magical new picture book, inspired by Tim's much loved hit song from the multi-award-winning Matilda The Musical. It imagines life from a child's viewpoint, with all the humour and poignancy of the song.
The book is beautifully illustrated by Steve Antony, an internationally published, award-winning author and illustrator of many picture books, including the Mr Panda series.
SKIP TO: UK Edition | Australian Edition | US Edition

Tim says: "I feel incredibly lucky to be able to lend my lyrics to a children's book. I adore Steve's work, and it's been a thrill to watch him develop his gorgeous illustrations. I can't wait to hold a copy in my hands."

Steve says: "I feel so lucky and honoured to be working on such an exciting and unique picture book project with Tim and the team at Scholastic. Adapting Tim's beautiful and emotive song into a visual narrative really is a dream job and has allowed me and my inner child to indulge in a world of imagination, fun, hope and possibility."
When I Grow Up is available in all good bookshops and online. Each cover, for the three editions, is slightly different but infused with the same playful energy and imagination for which When I Grow Up is so beloved.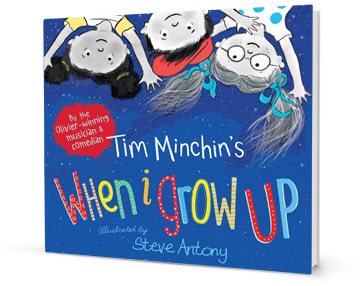 UK Edition
The UK edition of When I Grow Up was published on the 5th October by Scholastic UK.
Amazon
Waterstones
Book Depository (Free delivery worldwide)
John Lewis (With CD)
Also available in digital format from iTunes.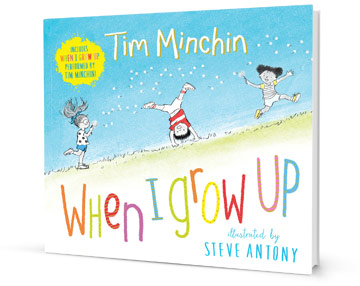 Australian Edition
The Australian edition, published on 1st October 2017 by Scholastic Australia, includes a bonus download of Tim performing the song.
Booktopia
Angus & Robertson
Dymocks
Readings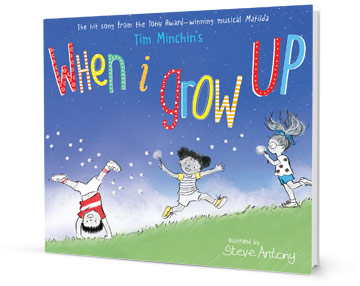 US Edition
The US edition, published on March 27th, 2018, by Scholastic Press US is available from:
Amazon US
Barnes & Noble
Books-A-Million
IndieBound
Target
Or download and read the Kindle version.



Here's a peek inside:

The Times, December 2nd, 2017
Books Of The Year: The best children's books of 2017
When I Grow Up (2+) by Steve Antony and Tim Minchin
When I Grow Up is the song from Matilda the Musical that makes the butchest grown-ups weep with its message of uncynical hope. It doesn't always work when lyrics are illustrated and turned into children's picture books. However, these words — with dreamy artwork from Steve Antony — work well read or sung out loud before bedtime. After all, what child doesn't want to imagine an adulthood where they "eat sweets every day on the way to work"?
The Sunday Times, December 3rd, 2017
Books of The Year: Children
In When I Grow Up by Tim Minchin (3-6), illustrator Steve Antony brings exuberance and a wealth of incident to the poignant song of the same name from Matilda the Musical, to create a picture book that reflects the joy of childhood but will also make adults feel a pang.