Below is the story of how Tim and Dennis Kelly helped turn Roald Dahl's famous children's book Matilda into a hit musical.
Updated October 2017
SKIP TO: Matilda | Photos | Videos | Quotes/Reviews | Awards | Press |
Stratford-Upon-Avon | West End, London | UK & Ireland Tour | Broadway, New York | US Tour | Australia | Toronto, Canada | Auckland, New Zealand
The RSC's Matilda The Musical website has tickets available for the West End and the UK & Ireland Tour. It also has slightly less Minchin-centric information, than this page, in the form of videos, cast and production information, clips of the cast recordings, all their social media accounts and more. But as a head-start here they are on Twitter: @MatildaMusical, @MatildaBroadway and @MatildainOz. Teachers and children will find many creative writing resources on the RSC Education Department's interactive website MatildaSchoolResources.com. If you still want more then Angry (Feet), Tim's official fansite, has a Matilda sub-forum.
Information regarding the performance rights for Matilda The Musical can be found here. Matilda the Musical (in 20 minutes) will be released for schools and amateur youth groups (i.e. performers aged 16 years or younger) in the UK and Ireland ONLY from 4th March, 2014. This version will be available for a limited time prior to the official release by MTI of Matilda the Musical Junior Version (currently in development).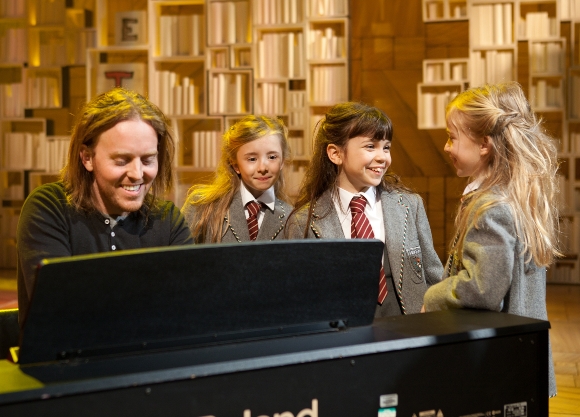 Tim with the Stratford-upon-Avon Matildas: Kerry Ingram, Adrianna Bertola and Josie Griffiths (Original production cast from Stratford-upon-Avon November 2010)
Matilda
Roald Dahl's children's novel Matilda was first published in 1988 with illustrations by Quentin Blake. It is the story of a very bright and rebellious little girl, with special powers. Matilda's parents, Mr and Mrs Wormwood, have no time for her and treat her as a nuisance. She spends most of her time reading books from the library astonishingly quickly, whilst they watch the telly and Mr Wormwood sells dodgy used cars. At school things are no better as despite the care and support of her teacher, the lovely Miss Honey, Matilda has to contend with the terrifying headmistress Miss Trunchbull who rules the school with cruelty and fear. Matilda fights against the injustices at home and at school. Eventually she decides the grown-ups should be taught a lesson and in the process discovers her supernatural powers
Chapter One: Stratford-Upon-Avon
In December 2008, director Matthew Warchus approached Tim about writing the music and lyrics for a stage musical adaptation of Roald Dahl's famous book, to be produced by The Royal Shakespeare Company. Tim had little hesitation: not only was the chance to write for the RSC impossible to resist, but as a life long fan of Dahl, he had – coincidentally – attempted to secure the stage rights to Matilda ten years earlier, when he was writing for theatre in Perth, WA.
Working from Kelly's script adaptation, Tim wrote his first draft in the middle of 2009, with the first workshop production taking place in London in September. A significant restructuring and a short period of rewriting was undertaken in the autumn, and – with Tim on tour in Australia – a second workshop took place in November. Over the new year big changes took place, characters were discarded, songs were binned, scenes were conflated, and inevitable crisis talks ensued, but not until Tim returned from Australia in March did the final push begin. Warchus, Kelly, Minchin, RSC dramaturge Jeanie O'Hare, and legendary musical supervisor Chris Nightingale spent an intense two months renovating the script. The final workshop production took place at the end of June, further adjustments were made, and rehearsals started in September 2010.
Following the dress rehearsal on the 6th November 2010 the show was performed to its first public audience, three days later, on the 9th at the Courtyard theatre in Stratford-Upon-Avon and was extremely well received. The previews continued for a month, with everyone working hard to tighten it up and tweak it into perfection. Finally Matilda, A Musical opened on the 9th December with the industry press in heavy attendance. The audience rose delightedly to their feet at the end and the reviews that followed in the national press were wonderful. The production was sold out over Christmas and throughout January until the run ended on January 30th.
A few days before the end of the run Matilda was awarded the Critics' Circle Award for Best Musical. These awards recognise excellence for theatre throughout the UK and are selected by a group of professional theatre critics. The Peter Hepple Award for Best Musical (new or revival) was presented by Matt Wolf, at the Prince of Wales Theatre and was accepted by director Matthew Warchus and some of the children from the cast.
There were now high hopes for a transfer to London's West End and for a cast recording of the show.
Chapter Two: London's West End
On the 30th March 2011 the Royal Shakespeare Company confirmed there would be a West End transfer in autumn 2011 for an open-ended run but there was a suspenseful wait until May 19th for all the exciting details. Then, at last, with the new grown up title and shiny new artwork: Matilda The Musical could stand tall and announce that it was heading to the Cambridge Theatre, in London's West End, previewing from Tuesday 18th* October 2011 with an initial booking period to 12th February 2012.
* Following a press release, on 29th September, this was amended to previewing from Tuesday 25th October 2011 with opening night on Thursday 24th November.
In May 2011 Tim worked on the cast recording with the original Stratford-upon-Avon cast at Air Studios, Highgate. This was released on Roald Dahl Day; 13th September 2011. This long clamoured for recording is available from the RSC Shop and the Matilda The Musical website where you can listen to preview clips of the tracks. There was an iTunes release on the 18th October.
The casting announcements came in two parts: First in August the adults and Matilda's school friends and then on Dahl Day the four young actresses who will be playing the eponymous Matilda were revealed at a press launch at the London Eye. (See the photo below).
With opening night in the West End fast approaching Tim talks here, on his blog, about the cast recording and the preparations for the move to the Cambridge Theatre.
In late October 2011, as Matilda The Musical had its first preview, Tim and Eleanor Worthington Cox, one of the four young actresses playing the title role of Matilda, spookily graced the front cover of Time Out London's Halloween issue. Inside the magazine Tim talks about Matilda The Musical with Time Out London's theatre editor Caroline McGinn. You can read the full interview here and see an additional photo from the shoot on the Time Out blog here.
At the Evening Standard Awards ceremony, hosted by Dame Edna Everage, on Sunday 20th November, Matilda the Musical won the Ned Sherrin Award for Best Musical. It was presented by Miranda Hart and collected by Tim, Dennis Kelly and Matthew Warchus. In their round up of the award winners The Evening Standard gave reasons for their choice:
THE NED SHERRIN AWARD FOR BEST MUSICAL
TIM MINCHIN, DENNIS KELLY AND MATTHEW WARCHUS
for Matilda The Musical
"The quest for a great new musical is over, at least for now: London (and before long, presumably, the world) has just that in Matilda, the Royal Shakespeare Company's deliriously funny and moving adaptation of Roald Dahl that has arrived on the West End following cheers and not a few tears on the occasion of its premiere last December in Stratford-upon-Avon.
That rare show pitched ostensibly at children that lucky adults in their midst will doubtless enjoy even more, Matilda comes down on the side of love and literacy as well as burp jokes, bad hair, and a bravura performance from Bertie Carvel, playing a battleaxe of a headmistress with a voice by way of Hannibal Lecter. (Carvel made the ES shortlist for best actor.) The altogether buoyant score is from Australian comedian Tim Minchin, marking his musical theatre debut amid a creative team (director Matthew Warchus included) that finds everyone involved at the top of their game. Small wonder the opening song is entitled "Miracle": it takes one to know one."
Matt Wolf
Source
You can view a short video of Tim, Dennis and Matthew receiving the award here.
Matilda's Opening Night
Following the month of previews and a week of press attendance Matilda The Musical opened, to great excitement, in the West End at the Cambridge Theatre on Thursday 24th November, 2011, with more press and many stars in attendance. At the end of the performance the whole audience jumped to their feet to give the actors of all ages and the musicians an extremely long and impressive standing ovation. Again the critical acclaim and outstanding reviews rolled in. A selection of the opening night pics have been added to Photos and there's footage of the evening in the Videos section below.
Just a week later, on December 2nd 2011, at London's Café de Paris, the Whatsonstage Award nominations were announced. Matilda The Musical received an amazing NINE nominations! These UK theatre industry awards are nominated by and voted for purely by theatregoers and the ticket-buying public. The Awards took place at the West End's Prince of Wales Theatre on Sunday 19th February 2012.
Matilda the Musical triumphed, winning Best New Musical – Tim Minchin & Dennis Kelly; Best Set Designer – Rob Howell; Best Choreographer – Peter Darling and Tim won The London Newcomer of the Year for his work on Matilda.
"With 35% of the votes in his category, Australian comedian Tim Minchin, making his musical debut providing the show's music and lyrics, was a commanding winner for London Newcomer of the Year." Whatsonstage.com
At the end of February 2012 the UK and US theatre press announced that Matilda would transfer to Broadway, premièring at an, as yet, unspecified New York theatre in early 2013.
On the 15th March 2012, the 2012 Olivier Award nominations were announced. Matilda The Musical received TEN nominations – the maximum possible! The Olivier awards are the UK's most prestigious theatre awards, recognising excellence in professional theatre in London shows. The Awards will be announced on the 15th April at the Royal Opera House.
In the run up to the Olivier awards the BBC's David Sillito went to meet three of the Matildas: Sophia, Cleo and Eleanor at the Cambridge Theatre in London. You can view video here.
On the night Matilda skipped away with SEVEN Laurence Olivier Awards, a record haul for a single show, including Best New Musical. Rob Howells won Best Set Design and Simon Baker Best Sound Design. Best Director went to Matthew Warchus with Peter Darling claiming Best Theatre Choreographer. Members of the cast triumphed too with Best Actor in a Musical for Bertie Carvel and the four Matildas: Cleo Demetriou, Kerry Ingram Eleanor Worthington Cox & Sophia Kiely sharing the award for Best Actress in a Musical, breaking the record for the youngest Olivier Award-holders. If you missed it you can see a few photos of the evening in the Photos section below and there's the Guardian Oliviers 2012 roundup video to give you a feel for the event which features interviews with Tim, Dennis Kelly and the Matildas.
Just a couple of weeks later Matilda was honoured at the 16th annual South Bank Sky Arts Awards, winning the theatre prize. There is a short interview with Tim on the night here.
On September 7th 2012, Guinness World Records, accepted as the global authority on record-breaking achievement announced the theatre additions to the 57th edition of the world's best-selling copyright book, Guinness World Records 2013. Matilda The Musical secured the Guinness World Record for Most Laurence Olivier award wins.
In November 2012, Matilda won Favourite Family Show in the TheatrePeople Awards 2012 with Tim and Dennis making a short acceptance video. In December, the same year, folowing nine nominations, Matilda won five 2012 Broadway World: UK Awards including Best Musical.
Inspired by Matilda's love of books and storytelling, in January 2013, the RSC Education Department launched Write Here Write Now with Matilda, an interactive website designed to encourage children to become avid readers, creative writers and playwrights themselves. There are filmed interviews with Tim and Dennis Kelly, who wrote the script adaptation, and as they bring their storytelling methods to life, with the help of comprehensive teacher notes, they aim to give teachers and children insights into the creative processes involved in writing and staging Matilda.
In December 2013 Matilda was nominated for Best West End Show, for a second time, in the 2014 Whatsonstage Awards. In 2013 Les Mis just pipped her to the post but on 23rd February, 2014, at The Prince of Wales Theatre, London, Matilda swept to victory. The voting breakdown is here.
On March 23rd, 2014, with a host of stars in attendance, the 1000th West End performance of Matilda The Musical took place! There's a video of the event in the Videos section.
Chapter Three: New York, Broadway
On July 19th 2012 the Royal Shakespeare Company announced that Matilda The Musical would open in Broadway's Shubert Theatre, with previews starting on the 4th March 2013 and opening night scheduled for 11th April 2013.
In November 2012 the producers announced the four young actresses who'd alternate playing the feisty heroine, Matilda, all of whom would be making their Broadway debuts: Oona Laurence, Milly Shapiro, Bailey Ryon and Sophia Gennua! Also making his Broadway debut was Bertie Carvel, reprising his West End role as the fearsome headmistress Miss Trunchbull, for which he won the 2012 Olivier for Best Actor in a Musical.
The casting of the principal roles and the ensemble was announced in December 2012 with Lauren Ward, reprising her West End role as Miss Honey. The full Broadway cast list can be found here.
Opening Night on Broadway
Following months of preparation and rehearsals, the New York production of Matilda The Musical opened at the Shubert Theatre on Broadway on the 11th April 2013 to delighted cheers and a full standing ovation from the star-studded audience and press. The show immediately saw a host of marvellously glowing reviews across the board.
Some more opening night pics can be found in Photos and there's some footage of the evening at the end of the Videos section below.
A raft of major US theatre award nominations quickly followed: TWELVE 2013 Tony Award nominations including Best Musical and Best Original Score (Music and/or Lyrics) Written for the Theatre for Tim; SEVEN Drama Desk Award nominations including Outstanding Musical and Outstanding Lyrics for Tim; FIVE Outer Critics Circle Award nominations including Outstanding New Musical; Two Drama League Award nominations including Outstanding New Musical and SEVEN Broadway.Com Audience Choice Award nominations including Favorite New Musical and with THREE of Tim's songs in the Favorite Song category!
The award wins rolled in throughout May 2013: The New York Drama Critics' Circle Award for Best Musical; two Broadway.com Audience Choice Awards including Favorite Song for Tim's 'When I Grow Up'; two Outer Critics Circle Awards; the Theatre World Award for Best Debut Performance for Bertie Carvel and five Drama Desk Awards including Outstanding Musical and Outstanding Lyrics for Tim. The full list of award nominations and wins an be found in the Awards section.
The 67th Annual Tony Awards ceremony took place at Radio City Music Hall, New York on June 9th 2013. At the glamorous and star studded evening Matilda The Musical won FOUR Tony Awards: Gabriel Ebert, who plays Mr Wormwood, won Best Performance by an Actor in a Featured Role in a Musical. Best Book of a Musical went to Dennis Kelly. Rob Howell claimed Best Scenic Design of a Musical and Hugh Vanstone Best Lighting Design of a Musical.
The four actresses who play the title role in Matilda The Musical on Broadway: Sophia Gennusa, Oona Laurence, Bailey Ryon and Milly Shapiro received Tony Honors for Excellence in the Theatre.
Matilda had now danced away with a phenomenal 47 awards, so far, in Stratford-Upon-Avon, London and New York!
The Broadway production of Matilda The Musical released its own original cast recording, in September 2013, and earned a prestigious nomination for the 2014 Grammys, for Best Musical Theater Album.
By the end of 2013, Matilda on Broadway had proudly made it onto a slew of Top 10 and Best Theatre Show Lists.
Matilda the Musical ended its triumphant Broadway run on January 1st, 2017, having played 37 previews and 1,555 regular performances at the Shubert Theatre!
US Tour
The First National US Tour of Matilda The Musical, began in May 2015, with technical rehearsals and performances in New Haven at the Shubert Theater. The tour then opened officially at the Ahmanson Theatre in Los Angeles on the 7th June, 2015, with Tim in attendance. After enthralling LA audiences the show headed off to cities all over the country! You'll find the cast list here and some images of opening night here and in the Photos section on this page.
Our eponymous hero headed off around the US on a second NEW US Tour on January 12th, 2017, taking with it some elements of the long-running Toronto Production.
Further information, the full touring schedule and tickets are available from the Matilda The Musical National US Tour website.
Chapter Four: Australia
Sydney
On the 26th February 2014, NSW Premier, Barry O'Farrell confirmed that Matilda would be heading down under, to make its Australian première at the Lyric Theatre in Sydney. The show will preview through the end of July, 2015 and then open in August.
Tim said: "Working on Matilda has been one of the greatest thrills of my life, and I've been aching to let her loose on audiences at home. Most of us grew up reading Dahl – the Australian sense of humour gels so well with his dark, iconoclastic tone. The last time a musical I helped write opened in Sydney, the actors almost outnumbered the audience, the theatre leaked, and my drummer was a bass player. If Matilda's arrival is half as fun as that was, it'll be a hoot."
At the media launch in October, 2014, Tim gave a speech and performed songs from the show, including When I Grow Up. Clips and more images from the event can be found in the Video and Photos sections below.
March 2015 saw the announcement of four of the principal adult cast members: (in alphabetical order) Marika Aubrey (Mrs Wormwood), Daniel Frederiksen (Mr Wormwood), Elise McCann (Miss Honey) and James Millar (Miss Trunchbull).
Then, a month later, the four young actresses who'll share the title role in the Australian Premiere Season of Matilda The Musical were announced: (in alphabetical order) Molly Barwick, Sasha Rose, Georgia Taplin and Bella Thomas. They spend the day of the announcement travelling around Sydney in a Matilda branded London taxicab! (see Photos)
To celebrate the fast approaching opening night, Tim guest edited The Sydney Morning Herald's Spectrum on Saturday 23rd July, 2015, writing this article: Tim Minchin: I'm bringing Matilda the Musical home detailing some of the twists and turns in his life and career that led to him writing the music and lyrics for Matilda. Tim's cover shot can be found in the Photos section below.
Opening Night in Sydney, Australia
Thursday 20th August, 2015, Tim attended the star-studded official Opening Night of the Royal Shakespeare Company's Australian production of Matilda The Musical, at the Sydney Lyric Theatre.
The stunning reviews flew in – you can read them in the Quotes/Reviews section below.
Melbourne
In October 2015 it was announced that Matilda would be heading to Melbourne's Princess Theatre in March of the following year. The four leading ladies, who would be joining the full Original Australian Adult cast from Sydney to play the eponymous hero, were announced in the November as Dusty Bursill, Tiana Mirra, Alannah Parfett and Ingrid Torelli.
Tim flew over from LA in time for the media call at the theatre on March 16th.
Opening Night in Melbourne, Australia
Thursday 17th March, 2016, Tim attended the Melbourne Premiere of Matilda The Musical at the Princess Theatre with his family. He joined the cast on stage for the bows where they received a standing ovation.
At the glittering 2016 Helpmann Awards ceremony, held at Sydney's Lyric theatre in July of that year, having been nominated for 13 Helpmann Awards, the Australian production of the Royal Shakespeare Company's Matilda The Musical converted them into a record breaking 13 wins, including Best Musical! Images and footage from the evening can be found here.

Brisbane
The official Brisbane Premiere of Matilda The Musical was on November 30th at the Lyric Theatre at QPAC.
Four young actors will share the role of Matilda for the Brisbane, Perth and Adelaide seasons. Alphabetically: Izellah Connelly, Annabella Cowley, Venice Harris and Eva Murawski.
Perth
Tim performed at the advance showcase of Matilda, at the Crown Theatre in Perth, in November 2016.
Matilda made its Perth Premiere on Friday, March 3rd, 2017 and will play for a strictly limited season at Perth's Crown Theatre. Sadly filming commitments on another continent meant that Tim was unable to attend.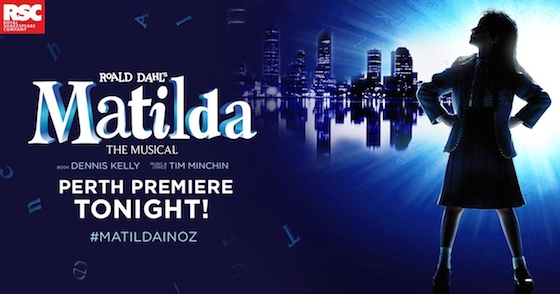 Matilda had to leave Perth on the 7th May, 2017.
Adelaide
The Adelaide season commenced on May 21st, 2017, with the premiere on May 26th: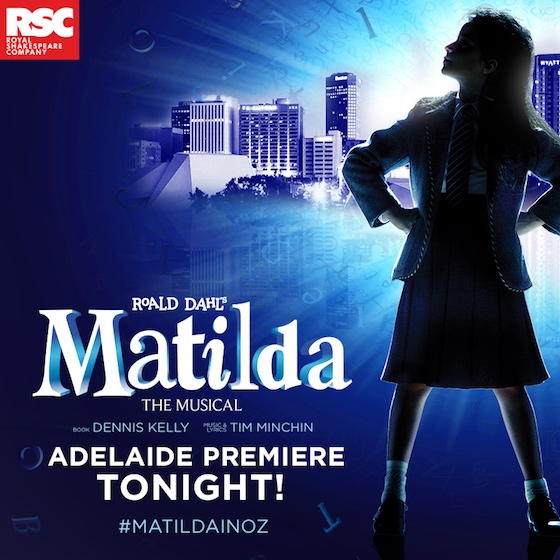 Tickets are available here.
Here's some footage of the Final Australian Opening Night:
Chapter Five: Toronto, Canada
In March 2016 the search began for the Toronto cast for the only production of Matilda in Canada.
Performances will begin Tuesday July 5th at the Ed Mirvish Theatre, with the media night scheduled for Thursday, July 7th at 6:45pm. Tickets and further information can be found here.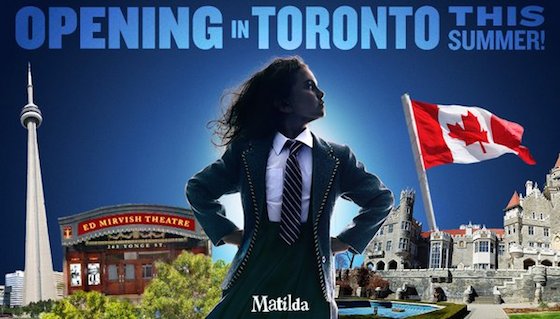 Following its marvellous, twice extended, six month engagement at the Ed Mirvish, Matilda closed on January 7th, 2017, with many of the principal cast members going on to star in the second US Tour.
Dan Chameroy won Best Supporting Actor in a Musical, at the 2017 Toronto Theatre Critics Awards, for his performance as the terrifying but comic Miss Trunchbull.
Chapter Six: Auckland, New Zealand
In March 2017, it was announced that the critically-acclaimed Australian Production of Matilda will swing over to premiere at The Civic in Auckland, August 2017 for a strictly limited season. Arriving 18th August and running until the 22nd October.
Catherine Mallyon, RSC Executive Director, said: "We are thrilled to bring our production of Matilda The Musical to New Zealand and we hope audiences here will take Matilda to their hearts, as they have done in Stratford-upon-Avon, London, the United States of America, Canada and Australia."
Aukland said a fond farewell to Matilda on Sunday 22nd October, 2017.
Chapter Seven: UK & Ireland Tour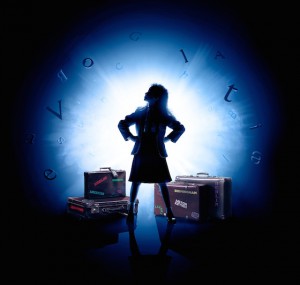 In April, 2017, the Royal Shakespeare Company announced that Matilda The Musical will be touring the UK and Ireland in 2018-2019, opening first at Leicester Curve in March 2018. (It will continue to play, at the Cambridge Theatre, in London).
Tim said: "I – like millions of others – feel like Dahl is in my blood, because I grew up with his books. So to have contributed to a piece of work that brings one of his most famous stories to life is one of my life's great joys. I'm utterly thrilled that audiences in cities all across the UK and Ireland will now share and be part of Matilda's story."
The dates announced, so far, for the RSC's touring production of Matilda The Musical are:
Leicester Curve (5th March – 24th March, 2018)
Dublin Bord Gais Energy Theatre (4th April – 28th April, 2018)
Sunderland Empire (8th May – 2nd June, 2018)
Milton Keynes Theatre (5th June – 30th June, 2018)
Birmingham Hippodrome (3rd July – 8th September, 2018)
Manchester Palace (18th September – 24th November, 2018)
Cardiff Wales Millennium Centre (4th December – 12th January, 2019)
Matilda has a dedicated UK and Ireland tour page for ticket details. It includes a tour map, to which further dates and venues will be added in due course.
Dennis Kelly said: "It's been a long time coming but I'm delighted that we get to take Matilda around the UK and to Ireland. We have some fantastic theatres in this country and in Ireland, supported by smart, engaged audiences and we can't wait to bring this crazy, messy, anarchic explosion of a show to them."
The production will be accompanied in each location by a new education programme to engage young people, inspired by Matilda The Musical, aiming to reach over 15,000 children. There will be a travelling library of stories led by Mrs Phelps and even whole school takeovers of Matilda! More details to be announced.
*****
By April 2017, this musical adaptation of Roald Dahl's adored children's story, had won 85 international awards, including 16 for Best Musical and has now played in 50 cities worldwide!
Wonder what the next turn of the page will bring…
Photos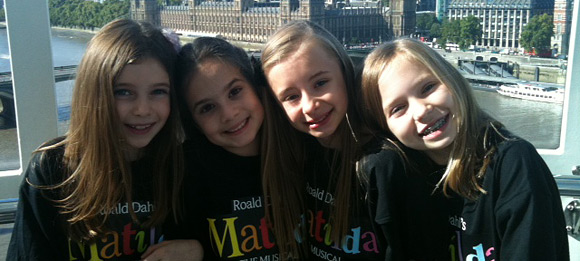 The West End Matildas: Eleanor Worthington Cox, Cleo Demetriou, Kerry Ingram and Sophia Kiely
Opening Night on Thursday 24th November, 2011. Taken in the Cambridge theatre foyer and at the after-party:
(All five by Dan Wooller)
More photos of the evening can be found here.
More photos of the evening can be found on the RSC's Facebook page here.
Tim guest edited the Sydney Morning Herald and wrote the article: I'm bringing Matilda the Musical home. Here's his cover shot:
Matilda's US Tour opening night, at the Ahmanson Theatre in Los Angeles, on June 7th 2015:
Opening Night in Australia, at the Sydney Lyric Threatre, on Thursday 20th August, 2015:
Melbourne Media Call, March 16th 2016:
Opening Night in Melbourne, Australia, Thursday 17th March, 2016, at the Princess Theatre: (Photos by James Morgan)
The Australian Production of Matilda The Musical won a record breaking THIRTEEN 2016 Helpmann Awards!


In October 2016, Canadian Prime Minister Justin Trudeau and family attended a performance of MATILDA THE MUSICAL, at Toronto's Ed Mirvish Theatre.
Tim performed at an advance showcase of Matilda, at the Crown Theatre in Perth, in November 2016:
Making a mark on Perth:
Videos
First, a couple of interviews, filmed in April 2010, featuring Tim and the writer Dennis Kelly:
In the first Tim talks about how he became involved with Matilda, what the project means to him and how he's approached it musically.



In the second Tim and Dennis discuss the script and the writing process, the influence of Quentin Blake's illustrations and how they worked to be true to Dahl's writing.



Behind the scenes insights at the July 2010 Workshops and Christopher Nightingale the musical supervisor and orchestrator talking with Tim about job titles/roles, and preparing to perform the show for a small audience of children and adults.



This first video trailer, released in September 2010, featuring some of the instrumental score written by Tim, was the first opportunity to hear some of the music.



Early November 2010, just before the first preview to the public, the RSC made this video showing footage of the kids in rehearsals. The audio is the demo of "When I Grow Up", the first song that Tim finished and showed Dennis Kelly, Matthew Warchus and Chris Nightingale in May 2009.



A second trailer was released in November 2010 during the previews, featuring Miss Trunchbull *gulp* telling us about RULES. with further tantalising snippets of Tim's music. This was updated with the new artwork and title in May 2011, as the London West End transfer was announced:



Tim, Matthew Warchus and Dennis Kelly talked to the Telegraph about creating Matilda The Musical in September 2011:



As the Cambridge Theatre was being transformed in September 2011, Tim and Dennis Kelly popped in to take a look and to ask each other questions posed by fans of the show in Twitter. Here's Part 1:



Still at the Cambridge Theatre in September 2011, Dennis and Tim continue interviewing each other and sniggering. Part 2:



Opening Night at the Cambridge Theatre on Thursday 24th November 2011: Performance footage and photos intercut with short interviews with members of the cast, the creative team and guests at the event:



A montage of clips filmed, in 2011, at the Cambridge Theatre in London's West End:



In April 2013, Tim attended the Olivier Awards ceremony, at which, in 2012 Matilda triumphed, winning a record-breaking SEVEN awards! He presented the award for Best New Musical and performed 'My House' from the show:



The US trailer for Matilda The Musical on Broadway:



Tim, Dennis, other members of the creative team and Lauren Ward, who's reprising her role as Miss Honey in New York, talk about Matilda's journey to Broadway:



Opening night at the Shubert Theatre, on Broadway, on the 11th April 2013. Audience reactions and brief interviews with Tim, Dennis Kelly and members of the cast:



A full 30 minute episode of Theater Talk featuring Matilda The Musical, talking to Tim, Dennis Kelly and actor Bertie Carvel:



Bertie Carvel 'interviews' Tim at the Drama Desk Awards:



Tim collecting his Broadway.com Audience Choice Award for Favorite Song: 'When I Grow Up':



Tim talking about writing the music and lyrics for 'When I Grow Up' before performing the song:



Matilda The Musical's 1000th Performance at The Cambridge Theatre attracted a host of stars:
As part of the Australian launch in October 2014, Tim talks to the ABC's Adrian Raschella about the success of the stage production:



Matilda The Musical Australia – Sydney Media Launch



Matilda Broadway – #WhenIGrowUp music video



Tim and the Sydney Matildas perform 'Naughty' on the Today show



In celebration of 1,000 performances of Matilda on Broadway, SiriusXM and Entertainment Weekly radio hosted a Conversation with Tim, moderated by Jessica Shaw. The show included a some special performances, including Tim singing 'When I Grow Up' with Bailey Ryon:



Again, for the celebration of 1,000 performances of Matilda on Broadway, Tim accompanied Bailey Ryon as she sang 'Naughty':



Tim accepting the 2016 Helpmann Award for Best Original Score. (One of a record breaking THIRTEEN Helpmann Award wins for the Australian Production of Matilda The Musical!)



To help celebrate the upcoming season of Matilda at the Crown Theatre, Perth, Tim returned to his home town for an intimate performance at the Crown Perth Infinity Suite:
There are more videos on the RSC YouTube channel, the Matilda The Musical YouTube channel, the Matilda Broadway YouTube channel and the Matilda The Musical Australia YouTube channel.
Quotes/Reviews
Sydney, Australia – Lyric Theatre:
"Dennis Kelly adapts Roald Dahl's story to the stage with brilliant new details, and Tim Minchin has loads of room for songs with bold, springy rhythms and razor-sharp lyrics that make you want to punch the air with delight. It's a stylistically supple score, with exhilarating colour and ­energy matched by ­moments of deeply affecting tenderness…"
"Matilda the Musical is that rare thing: a show that's genuinely for all the family. It's altogether remarkable and brilliantly realised."
"…lyricist and composer Tim Minchin and book writer Dennis Kelly have turned it into a spectacularly witty, intelligent and irresistible show that engages at every turn."
"All in all, Matilda the Musical is the treat you and yours have been waiting for if you've been waiting for an intelligent, beautiful, funny, sad and ultimately triumphant delivery of Australian musical theatre talent. Not to be missed."
"Matilda is one of the most thrilling new musicals of recent years: a show that isn't afraid to be dark, sophisticated or smart, while at the same time pulsing with a gloriously funny streak of child-like, anarchic naughtiness."
"Matilda is a gem of a show with a wonderful heart and message about standing up to bullies and fighting for what is right. It's also a love letter to joy of words. Pure magic."
Time Out Sydney *****
"Matilda is a freaking masterpiece. Like its heroine, this show stands head and shoulders above its peer group of bright young things, pushing its way into all-time-favourite lists."
Limelight *****
"Indestructible Success"
"Tim Minchin and Dennis Kelly's blockbusting adaptation of Roald Dahl's Matilda demonstrates that the art of creating intelligent, well crafted, elating musicals that leave the brain fizzing, the heart pounding and the face aching from uncontrollable grinning is alive and well."
New York, Broadway – Shubert Theatre:
Ben Brantley describes Matilda as "the most satisfying and subversive musical ever to come out of Britain, where it was nurtured into life by the Royal Shakespeare Company… even more glorious than we were promised… truly revolutionary."
Peter Marks says "'Matilda' [is] by some large and tickling measure the most splendiferous new musical of the year…"
"With a delectably clever score by Tim Minchin and a slyly evocative book by Dennis Kelly, the musical, is distinguished by its wonderful look and a caliber of choreography for young people you rarely ever experience."
Chris Jones hails the production as "far and away the best new musical of the Broadway season, indeed one of the best family-oriented shows of any season" and describes Tim's score as "remarkably rich, occasionally anthemic" singling out "a simple, gorgeous Tim Minchin song, 'When I Grow Up.' "
Elisabeth Vincentelli says "Once in a blue moon, a show comes out blazing and restores your faith in Broadway. A treat for ears and eyes, brain and heart, the glorious 'Matilda' has it all."
Richard Zoglin proclaims Matilda "the wondrous new musical from London that has just arrived on Broadway. It would be easy to call it the best British musical since 'Billy Elliot', but that, I'm afraid, would be underselling it. You have to go back to 'The Lion King' to find a show with as much invention, spirit and genre-redefining verve." and says "[Tim Minchin] has written a score that seems all but woven into the scenery—simple but distinctive tunes, intricate lyrics, a touch of jazz here, or wailing rock there, but all of a piece, integral to the show and like nothing else."
London, West End – Cambridge Theatre:
The Guardian *****
"Writer Dennis Kelly and composer and lyricist Tim Minchin go to the top of the class with this anarchically joyous, gleefully nasty and ingenious musical adaptation of Roald Dahl's story.
It's an evening of unadulterated bliss."
The Telegraph *****
"Hilarious, moving and magical.
Dennis Kelly's script actually improves and deepens Dahl's original. Meanwhile, Aussie comedian Tim Minchin has come up with a smashing score that combines take-home melodies with delicious lyrical wit in songs that consistently develop both the plot and our understanding of the characters.
A thrilling, warm-hearted production, which constantly combines comedy with a sense of wonder."
The Evening Standard *****
"Matilda is a gem…enchanting. At the heart of this satisfyingly fresh adaptation of a cherished Roald Dahl story are Australian comedian Tim Minchin's music and lyrics, which ooze humour…Dennis Kelly's book switches smartly from grubby fun to a grown-up idiom.
This generous, big-hearted piece is already being spoken of as one of the best new British musicals in years."
Time Out, London *****
"The RSC's 'Matilda' is the best British musical in years. And it's not just a kids' show… It is guaranteed to delight anyone who's ever been a child.
Writer Dennis Kelly has enlarged Dahl's book brilliantly, making 'Matilda'…an upliftingly stageable story of collective rebellion… we have the mini-heroes of Year 1, rocking out and fighting for their right to be 'a little bit naughty'.
Tim Minchin's catchy, satirical music and lyrics include a couple of spot-on anthems [and he] gives his Revolting Children a fantastic hackle-raising finale – but subtle songs like 'When I Grow Up', staged beautifully on swings, ensure there's an achingly wistful conversation between childhood and adulthood along the way.
It's smart, quirky and sublimely good fun."
Stratford-Upon-Avon – Courtyard Theatre Run:
The Telegraph *****
"Director Matthew Warchus, … brings the show to life with a buzzing vitality that proves irresistible…But the biggest laurels should go to Dennis Kelly, whose script has both deepened the emotion of Dahl's story while adding loads of splendid jokes of his own, and Tim Minchin, the Aussie comedian, who has written the music and lyrics.
The songs fizz with humour and great take-home melodies. Kelly and Minchin suddenly look like the brightest prospects for British musical theatre since Andrew Lloyd Webber and Tim Rice."
WhatsOnStage.com *****
"Tim Minchin's music and lyrics sparkle with wit and energy, demonstrating a touch of genius to rival that of the eponymous Matilda. Complemented by Dennis Kelly's book, they make up a piece which is by turns riotously funny and gut-wrenchingly poignant …, all brought vividly to life by Matthew Warchus' masterful direction."
The Times *****
"Dennis Kelly's adaptation grips from the start… Jokes and numbers come thick and fast…Tim Minchin's lyrics, to his own music, are so good that the temptation to write them down could, at any point, make you miss some extraordinary sight."
The Independent ****
"The Royal Shakespeare Company has struck gold with this wildly entertaining musical… Dennis Kelly's clever adaptation and the witty, intricate songs by Aussie comic Tim Minchin create a new, improved version of Dahl's story"
"Matthew Warchus's wondrously well-drilled production finds just the right balance between gleeful grotesque humour and heart-warming poignancy"
Evening Standard *****
"The RSC's new musical version of Roald Dahl's Matilda is a triumph: enchanting, bold and ingenious… In Tim Minchin, it has found the perfect spur for a wildly tuneful reimagining… The Australian comedian has crafted a succession of witty songs: his lyrics are full of trickery, his melodies instantly winning."
"In this lovingly created show, Matilda's magic positively sparkles. There's a cleverness in the writing which ensures that, while it appeals to children, there is plenty for adults to savour…it's blissfully funny…There's a playfulness throughout that proves intoxicating."


More quotes and reviews can be found here and here.
Awards
Winner
UK:
2010 Critics' Circle Award: The Peter Hepple Award for Best Musical (new or revival) (original Stratford-upon-Avon production)
2011 Theatre Awards UK – Best Musical Production (original Stratford-upon-Avon production)
2011 Theatre Awards UK – Best Performance in a Musical for Bertie Carvel (original Stratford-upon-Avon production)
London:
2011 Evening Standard Theatre Awards – The Ned Sherrin Award for Best Musical
2012 SOBOM (Society of Box Office Managers) Awards – Best Musical
2012 WhatsOnStage Awards – Best New Musical for Tim Minchin and Dennis Kelly
2012 WhatsOnStage Awards – Best Set Designer for Rob Howell
2012 WhatsOnStage Awards – Best Choreographer for Peter Darling
2012 WhatsOnStage Awards – The London Newcomer of the Year for Tim Minchin
2012 Olivier Awards – Best New Musical for Matilda The Musical at the Cambridge
2012 Olivier Awards – Best Actress in a Musical for Cleo Demetriou, Kerry Ingram Eleanor Worthington Cox & Sophia Kiely
2012 Olivier Awards – Best Actor in a Musical for Bertie Carvel
2012 Olivier Awards – Best Director for Matthew Warchus
2012 Olivier Awards – Best Set Design for Rob Howells
2012 Olivier Awards – Best Sound Design for Simon Baker
2012 Olivier Awards – Best Theatre Choreographer for Peter Darling
2012 South Bank Sky Arts Awards – Best Theatre Award
2012 Group Leisure Awards – Best Theatre Production
2012 London Lifestyle Awards- Best Theatre Show
2012 Theatre_People Awards – Favourite Family Show for Matilda The Musical
2012 Broadway World: UK Awards – Best Direction of a Musical for Matthew Warchus
2012 Broadway World: UK Awards – Best Lighting Design for Hugh Vanstone
2012 Broadway World: UK Awards – Best Musical
2012 Broadway World: UK Awards – Best Musical Direction (West End) for Alan Berry/Bruce O'Neil
2012 Broadway World: UK Awards – Best Orchestrations for Christopher Nightingale
2013 SOBOM (Society of Box Office Managers) Awards – Best Musical
2013 The Mousetraps (Mousetrap Theatre Projects) – Outstanding Female Performance – The Matildas
2014 WhatsOnStage Awards – Best West End Show
US:
2013 New York Drama Critics' Circle Award – Best Musical
2013 Broadway.com Audience Choice Awards – Favorite Breakthrough Performance for Bertie Carvel
2013 Broadway.com Audience Choice Awards – Favorite Song: 'When I Grow Up'
2013 Outer Critics Circle Awards – Outstanding Book of a Musical for Dennis Kelly
2013 Outer Critics Circle Awards – Outstanding Set Design for Rob Howell
2013 Theatre World Awards – Best Debut Performance for Bertie Carvel
2013 Drama Desk Awards – Outstanding Musical
2013 Drama Desk Awards – Outstanding Featured Actor in a Musical for Bertie Carvel
2013 Drama Desk Awards – Outstanding Lyrics for Tim Minchin
2013 Drama Desk Awards – Outstanding Book of a Musical for Dennis Kelly
2013 Drama Desk Awards – Outstanding Set Design for Rob Howell
2013 BroadwayWorld.com Awards – Best Musical
2013 BroadwayWorld.com Awards – Best Book of a Musical for Dennis Kelly
2013 BroadwayWorld.com Awards -Best Direction of a Musical for Matthew Warchus
2013 BroadwayWorld.com Awards – Best Lighting Design for Hugh Vanstone
2013 BroadwayWorld.com Awards – Best Scenic Design for Rob Howell
2013 Tony Awards – Best Performance by an Actor in a Featured Role in a Musical for Gabriel Ebert
2013 Tony Awards – Best Book of a Musical for Dennis Kelly
2013 Tony Awards – Best Scenic Design of a Musical for Rob Howell
2013 Tony Awards – Best Lighting Design of a Musical for Hugh Vanstone
2013 Tony Honors for Excellence in the Theatre for the Matildas: Sophia Gennusa, Oona Laurence, Bailey Ryon and Milly Shapiro
Australia:
2016 Helpmann Awards – Best Musical
2016 Helpmann Awards – Best Original Score in a Musical for Tim Minchin
2016 Helpmann Awards – Best Direction of a Musical for Matthew Warchus
2016 Helpmann Awards – Best Female Actor in a Musical for Molly Barwick, Dusty Bursill, Tiana Mirra, Alannah Parfett, Sasha Rose, Georgia Taplin, Bella Thomas and Ingrid Torelli
2016 Helpmann Awards – Best Male Actor in a Musical for James Millar
2016 Helpmann Awards – Best Choreography in a Musical for Peter Darling
2016 Helpmann Awards – Best Music Direction in a Musical for Stephen Amos
2016 Helpmann Awards – Best Sound Design in a Musical for Simon Baker
2016 Helpmann Awards – Best Scenic Design in a Musical for Rob Howell
2016 Helpmann Awards – Best Costume Design in a Musical for Rob Howell
2016 Helpmann Awards – Best Lighting Design for Hugh Vanstone
2016 Helpmann Awards – Best Male Actor in a Supporting Role in a Musical for Daniel Frederiksen
2017 Helpmann Awards – Best Female Actor in a Supporting Role in a Musical for Elise McCann
2017 Green Room Awards for Music Theatre – Outstanding Music Theatre Production
2017 Green Room Awards for Music Theatre – Lighting Design for Hugh Vanstone
2017 Green Room Awards for Music Theatre – Set Design for Rob Howell
2017 Green Room Awards for Music Theatre – Costume Design for Rob Howell
2017 Green Room Awards for Music Theatre – Sound Design for Simon Baker
2017 Green Room Awards for Music Theatre – Music Direction/Supervision for Stephen Amos
2017 Green Room Awards for Music Theatre – Betty Pounder Award for Excellence in Choreography for Peter Darling
2017 Green Room Awards for Music Theatre – Direction for Matthew Warchus
Canada:
2017 Toronto Theatre Critics Awards – Best Supporting Actor in a Musical for Dan Chameroy
Nominated
UK:
2011 British Composer Awards – Best Stage Work for Tim Minchin
2011 Evening Standard Theatre Awards – Best Director for Matthew Warchus and Best Actor for Bertie Carvel
2012 WhatsOnStage Awards – Best Actress in a Musical for Cleo Demetriou, Kerry Ingram Eleanor Worthington Cox & Sophia Kiely
2012 WhatsOnStage Awards – Best Actor in a Musical for Bertie Carvel
2012 WhatsOnStage Awards – Best Supporting Actress in a Musical for Lauren Ward
2012 WhatsOnStage Awards – Best Supporting Actor in a Musical for Paul Kaye
2012 WhatsOnStage Awards – Best Director for Matthew Warchus
2012 Olivier Awards – Best Costume Design for Rob Howells
2012 Olivier Awards – Best Lighting Design for Hugh Vanstone
2012 Olivier Awards – Best Performance in a Supporting Role in a Musical for Paul Kaye
2012 Broadway World: UK Awards – Best Featured Actor in a Musical for Gary Watson / Paul Kaye / Steve Furst
2012 Broadway World: UK Awards – Best Featured Actress in a Musical for Emily Shaw / Josie Walker / Lauren Ward / Melanie Le Barrie
2012 Broadway World: UK Awards – Best Leading Actor in a Musical for Bertie Carvel
2012 Broadway World: UK Awards – Best Leading Actress in a Musical for The Matildas
2013 WhatsOnStage Awards – Best West End Show
2013 Olivier Awards – The BBC Radio 2 Audience Award
US:
2013 Tony Awards – Best Musical
2013 Tony Awards – Best Original Score (Music and/or Lyrics) Written for the Theatre for Tim Minchin
2013 Tony Awards – Best Performance by an Actor in a Leading Role in a Musical for Bertie Carvel
2013 Tony Awards – Best Performance by an Actress in a Featured Role in a Musical for Lauren Ward
2013 Tony Awards – Best Direction of a Musical for Matthew Warchus
2013 Tony Awards – Best Choreography for Peter Darling
2013 Tony Awards – Best Orchestrations for Chris Nightingale
2013 Tony Awards – Best Costume Design of a Musical for Rob Howell
2013 Drama Desk Awards – Outstanding Director of a Musical for Matthew Warchus
2013 Drama Desk Awards – Outstanding Choreography for Peter Darling
2013 Outer Critics Circle Awards – Outstanding New Musical
2013 Outer Critics Circle Awards – Outstanding Choreographer for Peter Darling
2013 Outer Critics Circle Awards – Outstanding Actor in a Musical for Bertie Carvel
2013 Drama League Awards – Outstanding New Musical
2013 Drama League Awards – Distinguished Actor for Bertie Carvel
2013 Broadway.com Audience Choice Awards – Favorite New Musical
2013 Broadway.com Audience Choice Awards – Favorite Actor in a Musical for Bertie Carvel
2013 Broadway.com Audience Choice Awards – Favorite Diva Performance for Bertie Carvel
2013 Broadway.com Audience Choice Awards – Favorite Song: 'Revolting Children'
2013 Broadway.com Audience Choice Awards – Favorite Song: 'The Smell of Rebellion'
2013 BroadwayWorld.com Awards – Best Score for Tim Minchin
2013 BroadwayWorld.com Awards – Best Choreography for Peter Darling
2013 BroadwayWorld.com Awards – Best Leading Actor in a Musical for Bertie Carvel
2013 BroadwayWorld.com Awards – Best Sound Design of a Musical for Simon N. Baker
2014 Grammy Awards – Best Musical Theater Album
Australia:
2017 Green Room Awards for Music Theatre – Female Lead for Dusty Bursill, Tiana Mirra, Alannah Parfett and Ingrid Torelli (THE MATILDAS)
2017 Green Room Awards for Music Theatre – Male Lead for James Millar
2017 Green Room Awards for Music Theatre – Female in a Supporting Role for Elise McCann
2017 Green Room Awards for Music Theatre – Male in a Supporting Role for Daniel Frederiksen
Press
RSC gives Roald Dahl's "Matilda" musical makeover Reuters (Interview)
Waltzing Matilda: Dahl's classic dances on to the stage The Telegraph (Editorial)
Why You Should Come And See Matilda, A Musical Whatsonstage (Editorial)
Anarchy in the UK: Aussie comic Tim Minchin is fomenting childish revolt after getting his hands on Roald Dahl The Independent (Interview)
How we turned Matilda into a musical triumph The Telegraph (Interview)
Time Out meets madcap comedian Tim Minchin as he talks about 'Matilda The Musical' Time Out London (Interview)
Fantastic Mr Minchin wows the West End The Independent (Editorial)
Sugar and Spice, and Something Sinister The New York Times (Review)
Matilda is top of the class at Whatsonstage.com awards Guardian (Editorial)
Dahl's gold: Matilda the Musical dominates Oliviers Guardian (Editorial)
The Man Who Gave 'Matilda' Her Songs Wall Street Journal (Blog/Interview)
Dream Big, Girl New York Times (Editorial)
Musicals we love: Matilda The Guardian (Editorial)
Tim Minchin: I'm bringing Matilda the Musical home Sydney Morning Herald (Editorial)
Lists
New York Times Top Shows of 2013 (Ben Brantley's Theater Favorites)
Time Magazine Top 10 Plays and Musicals
New York Post Top 10 Theatre Shows of 2013
Associated Press Top 10 Theatre Picks of 2013
Entertainment Weekly 10 Best Stage Productions of 2013
Hollywood Reporter Top 10 New York Theatre Picks for 2013
Vogue Guide to 2013's Best Theatre
amNewYork Best Theatre Productions of 2013 Best Theatre Productions
Huffington Post Theatre: Best Shows of 2013
The Record Best of 2013 theatre on and off Broadway