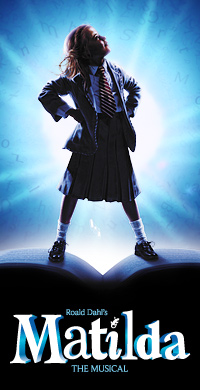 As we announced last year, the First National Tour of Matilda The Musical, produced by the Royal Shakespeare Company and the Dodgers, will begin this May in the US, with technical rehearsals and performances in New Haven at the Shubert Theater. Then the tour opens officially at the Ahmanson Theatre in Los Angeles on the 7th June, 2015.
There will be dates at cities all over the country, including San Francisco's SHN Orpheum Theatre, Seattle's 5th Avenue Theatre and Dallas' AT&T Performing Arts Center.
Further information, the full touring schedule and tickets are available from the Matilda The Musical National US Tour website.
The Cast:
The three girls sharing the title role are Gabby Gutierrez, Mia Sinclair Jenness, and Mabel Tyler. The principal cast also features (alphabetically): Jennifer Blood (Miss Honey), Quinn Mattfeld (Mr. Wormwood), Bryce Ryness (Miss Trunchbull) and Cassie Silva (Mrs. Wormwood).
The ensemble includes Cal Alexander, Kayla Amistad, Cameron Burke, Brittany Conigatti, Michael Fatica, Wesley Faucher, John Michael Fiumara, Camden Gonzales, Shonica Gooden, Evan Gray, Cassidy Hagel, Meliki Hurd, Michael Jablonski, Luke Kolbe Mannikus, Stephanie Martignetti, Megan McGuff, Ora Jones, Justin Packard, Serena Quadrato, Aristotle Rock, Jaquez Andre Sims, Ian Michael Stuart, Danny Tieger, Kaci Walfall, Natalie Wisdom, and Darius Wright.
If you'd like to catch up with how Tim came to write the music and lyrics for the stage musical adaptation of Roald Dahl's famous book, then the story so far is here. You'll also find the reviews and a huge list of international awards Matilda has received, including four Tony Awards and a record-breaking seven Olivier Awards, along with photos and videos marking key chapters.