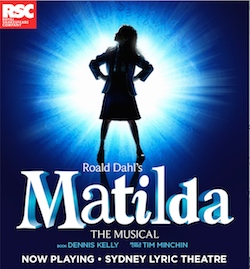 Yesterday evening, Tim attended the star-studded official Opening Night of the Royal Shakespeare Company's Australian production of Matilda The Musical, at the Sydney Lyric Theatre.
Four young actresses alternate playing Matilda, with Bella Thomas stepping into the title role magnificently last night. The three other Matildas are Molly Barwick, Sasha Rose and Georgia Taplin. The principal cast features (in alphabetical order), Marika Aubrey (Mrs Wormwood), Daniel Frederiksen (Mr Wormwood), Elise McCann (Miss Honey) and James Millar (Miss Trunchbull). Images of the Sydney Matildas and principle cast members can be found here.
There's some red carpet footage and interviews to watch, courtesy of the Sydney Morning Herald review, here.
(more…)