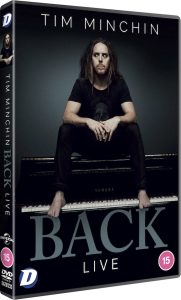 Tim's critically acclaimed, record breaking, sell-out show BACK is available to watch at home, just in time for Christmas viewing and gifting!
Filmed live at the Shepherd's Bush Empire, London, with Tim's 8-piece band, BACK is a comedic and musical extravaganza.
You can now download or rent BACK from a wide variety of platforms in the UK, Éire and Australia, so check your favourite digital retailer. It'll be released in the US on the 3rd January and in New Zealand on the 1st February.
Rent or download here: TimMinchinBACK
Platforms are listed below the trailer.
BACK is available on DVD and Blu-ray in the UK only. You can order on Amazon here or HMV here.
"Spectacular"
The Times
"Roof-raising return"
The Sunday Telegraph