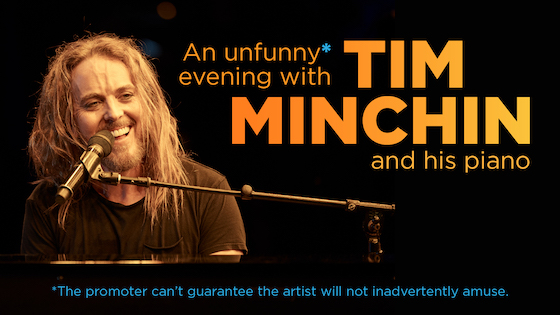 An Unfunny* Evening With Tim Minchin And His Piano
Tim's Unfunny* shows sold out across the UK and delighted audiences so Tim's decided to play a (big) handful of intimate solo dates in Australia this summer. The setlist will be fluid and the shows will have more of an unplanned intimate 'evening with' vibe as Tim chats about his song writing and perform songs drawn from his 2020 studio album, Apart Together, his musicals, Matilda and Groundhog Day, his TV and film writing and from his early songwriting days in the late 20th century.
It's a 90 minute show with no interval.
*the promoter can't guarantee the artist will not inadvertently amuse.
Tickets go On Sale Friday 4th August at 12noon (local times) here.
There's a My Live Nation presale starting at 10am Wednesday 2nd August and running until Friday 4th August at 10am. Use the link above and click through 'find tickets' to register for the presale.
| | | |
| --- | --- | --- |
| MELBOURNE Comedy Theatre | Thur 12th October 2023 | New Date |
| MELBOURNE Comedy Theatre | Fri 13th October 2023 | New Date |
| MELBOURNE Comedy Theatre | Sat 14th October 2023 | New Date |
| MELBOURNE Comedy Theatre | Sun 15th October 2023 | New Date |
| MELBOURNE Comedy Theatre | Thur 19th October 2023 | Sold Out |
| MELBOURNE Comedy Theatre | Fri 20th October 2023 | Sold Out |
| MELBOURNE Comedy Theatre | Sat 21st October 2023 | Sold Out |
| MELBOURNE Comedy Theatre | Sun 22nd October 2023 | Sold Out |
| MELBOURNE Comedy Theatre | Thur 26th October 2023 | Sold Out |
| MELBOURNE Comedy Theatre | Fri 27th October 2023 | Sold Out |
| MELBOURNE Comedy Theatre | Sat 28th October 2023 | Sold Out |
| MELBOURNE Comedy Theatre | Sun 29th October 2023 | Sold Out |
| BRISBANE QPAC Concert Hall | Sat 4th November 2023 | Sold Out |
| BRISBANE QPAC Concert Hall | Sun 5th November 2023 | Sold Out |
| BRISBANE QPAC Concert Hall | Mon 6th November 2023 | Sold Out |
| BRISBANE QPAC Concert Hall | Fri 2nd February 2024 | New Date |
| BRISBANE QPAC Concert Hall | Sat 3rd February 2024 | New Date |
| SYDNEY State Theatre | Fri 10th November 2023 | Sold Out |
| SYDNEY State Theatre | Sat 11th November 2023 | Sold Out |
| SYDNEY State Theatre | Sun 12th November 2023 | New Date |
| HOBART Odeon Theatre | Fri 17th November 2023 | Sold Out |
| HOBART Odeon Theatre | Sat 18th November 2023 | Sold Out |
| HOBART Odeon Theatre | Sun 19th November 2023 | New Date |
| HOBART Odeon Theatre | Mon 20th November 2023 | New Date |
| CANBERRA Llewellyn Hall | Sun 3rd December 2023 | Sold Out |
| CANBERRA Llewellyn Hall | Mon 4th December 2023 | New Date |
| CANBERRA Llewellyn Hall | Tue 5th December 2023 | New Date |
| GEELONG Costa Hall | Fri 19th January 2024 | New Date |
| GEELONG Costa Hall | Sat 20th January 2024 | Sold Out |
| ADELAIDEHer Majesty's Theatre | Thur 8th February 2024 | New Date |
| ADELAIDE Her Majesty's Theatre | Fri 9th February 2024 | Sold Out |
| ADELAIDE Her Majesty's Theatre | Sat 10th February 2024 | New Date |
| ADELAIDE Her Majesty's Theatre | Sun 11th February 2024 | New Date |
| NEWCASTLE Civic Theatre | Sun 18th February 2024 | Sold Out |
| NEWCASTLE Civic Theatre | Mon 19th February 2024 | New Date |
| PERTH Regal Theatre | Thu 22nd February 2024 | Sold Out |
| PERTH Regal Theatre | Fri 23rd February 2024 | Sold Out |
| PERTH Regal Theatre | Sat 24th February 2024 | Sold Out |
| PERTH Regal Theatre | Sun 25th February 2024 | Sold Out |
| PERTH Regal Theatre | Thu 29th February 2024 | New Date |
| PERTH Regal Theatre | Fri 1st March 2024 | Sold Out |
| PERTH Regal Theatre | Sat 2nd March 2024 | Sold Out |
| PERTH Regal Theatre | Sun 3rd March 2024 | New Date |