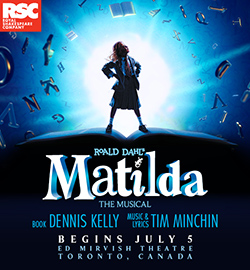 Time Magazine's #1 Show of the Year is heading to Canada!
Produced by the Royal Shakespeare Company and the Dodgers, Matilda The Musical is presented in Toronto by David Mirvish as part of his 2015-16 Main Subscription Season.
Performances begin Tuesday July 5th at the Ed Mirvish Theatre, with the media night scheduled for Thursday, July 7th at 6:45pm.
Toronto will be the only production of Matilda in Canada.
Tickets are already on sale for performances up until September 4th, 2016 from www.mirvish.com or by phone at TicketKing at 416-872-1212 or 1-800-461-3333.
Tickets can also be purchased in person at the Royal Alexandra Theatre Box Office, 260 King Street West. Group orders of 10 or more may be placed by calling 416-593-4142 or 1-800-724-6420.

More information can be found on the Matilda The Musical website and if you'd like to see the story of Matilda's adventures internationally, including many reviews, photos and videos then take a look here.