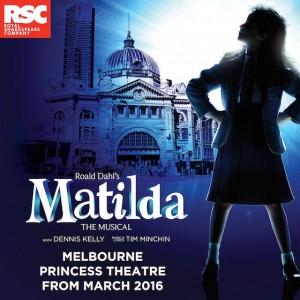 Last night Tim attended the official Opening Night of the Royal Shakespeare Company's Australian production of Matilda The Musical, at the Princess Theatre, Melbourne!
Four young actresses (pictured here) alternate playing Matilda, with Ingrid Torelli stepping marvellously into the title role for the premiere. The three other Melbourne Matildas are Dusty Bursill, Tiana Mirra and Alannah Parfett. They were joined by the full Original Australian Adult cast from Sydney, including the principals (in alphabetical order), Marika Aubrey (Mrs Wormwood), Daniel Frederiksen (Mr Wormwood), Elise McCann (Miss Honey) and James Millar (Miss Trunchbull).
Tim joined the cast on stage for the bows where they received a standing ovation.
Tickets are on sale for performances through to July 2016 via Ticketmaster.
On the red carpet:

All photos by James Morgan
To learn more about the Australian production of Matilda the Musical, and hear some previews of Tim's songs for the show, visit matildathemusical.com.au where you can also join the waitlist for tickets for Matilda in Brisbane in November and Perth in February 2017! If you want to know all about the show's journey from a small theatre in Stratford-upon-Avon through to being a worldwide smash hit, you might take a look here.