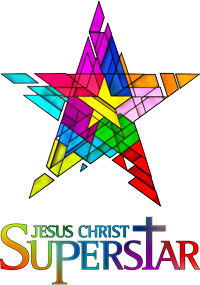 The spectacular Jesus Christ Superstar, with Tim playing his, award winning, dream role of Judas Iscariot, is on Channel 5 on Monday 30th December, 2013, at 11:35pm.
The show was filmed over two nights at Birmingham's NIA, for a delighted and emotional crowd, when it first toured UK arenas in 2012. The fabulous cast also includes Melanie C as Mary Magdalene, Alexander Hanson in the role of Pontius Pilate, Chris Moyles as King Herod and winner of the ITV prime-time show Superstar Ben Forster in the title role of Jesus.
So if you want to see Tim brooding, rocking and [spoiler alert] dying in dreadlocks and tatts, now's your chance. If the late time slot doesn't suit you then fear not, it should appear on Demand 5 shortly after it airs.
UPDATE 30/12/2013: Our apologies – Channel 5 inform us that they will not be putting this up on Demand 5. However, if you can't catch or record the programme, the DVD and Blu-ray are available in UK shops and online from various places including the JCS website and Amazon. (The DVD and Blu-ray are also available in Australia and the US.)
Here are a few (spoilery) clips to whet your appetite:
(more…)