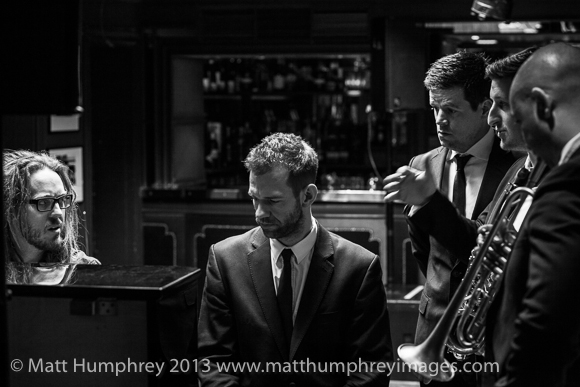 Tim: "Here's a guest blog from my friend Joe Stilgoe, who made an amazing radio show pilot the other week. I was lucky enough to be a guest. Thought you might be interested! He's a fine man and a great muso. Check out his album here or here."
Joe: "You might imagine an altogether different clientele when free wine is offered at 12 noon in the middle of Soho, but those who arrived at Ronnie Scott's, blinking in the darkness and groping around for a svelte Chardonnay or a chunky Merlot, were a classy bunch, and of the same mind: WE'RE HERE TO BE ENTERTAINED. I had been asked by those kindly if misguided souls at Radio 2 if I could put together a new show of wit, warmth, music, mirth, jazz, soul, comedy, unique moments and exciting revelation. I said no. They said there would be free wine. I said YES. They bought me a drink. I said YESH. The first name at the top of my hit-list was your very own boy wonder Minchin, and after he said YESH as well, I knew we'd be able to cram in some other rather juicy guests and at least have a stab at making this thing work.
The aim of this lunchtime romp was to thrash around in a hot jazz club oven and magically create an hour long radio show, or cake, if you will, so the brief demanded plenty of high quality organic ingredients to get that perfect bake, and no soggy bottom thank you very much. Does a baking metaphor stretch to radio? Does it ever…
I'd asked Tim because I knew he would fit in perfectly, be the biggest star in the room by an Australian mile (km) and give me some space to concentrate on hosting the thing and trying to hold it together. I was a mixture of… No, I'll leave it there. I was a mixture. (See? The baking thing is STILL going!)
Without wishing to give too much away, we were aiming for a combination of the great bits from Later with Jools Holland, with a topical theme running through, as heard on great radio shows that very few of you will remember (and I don't either, but my Dad forced me to listen to them) like I'm Sorry I'll Read That Again, In Town Tonight, and possibly even The Now Show. So, it had to be up to date, snazzy, entertaining and fresh. Tim kicked things off with the 'Take My Wife', and we were off and running. People were laughing, people weren't leaving. Tim and I performed the world's very first sung interview, with me at the grand piano and he on the Korg keyboard with weird buttons. We sung about Spice Girls, we veered into keys neither of us was comfortable in and I got the audience to sing 'Tim, you're not ugly' in formidable unison, until everybody there knew they were really in the midst of something new and exciting. It felt wonderful, Tim was on top form, even though he'd been performing only a few hours before, and was due to fly to New York that evening to play again at 54 Below. How was that, by the way? Did you miss the Korg?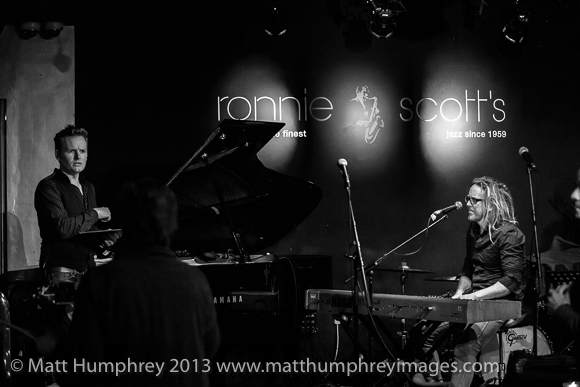 In between his two songs (obviously 'Inflatable You' was the second, with accompaniment from my stunning band who had only learnt the song minutes before) we had Heather Headley singing her and everyone else's head off with magnificence and beauty and class, the beatboxing legend that is Shlomo, new Radio 2 favourite and Swedish chanteuse Emilia Mitiku, and one of my favourite composers (he wrote Black Beauty!) Denis King. The show seemed to be rolling along quite nicely, even when Tim called me a 'jazz wanker'. There was a small gasp. Jazz clubs don't normally play host to such words. But I soldiered on, mopped up my jazzy tears. Oh God, that sounds awful, not jazzy tears. Not after the other word. Oh no. Forgive me, everybody, PLEEEEEASE. FORGIIIVVVE MEEEEE.
Right. Sorry. What's important to note is that your favourite auburn Antipodean Judas genius was a complete wonder, and because of Tim we could get hold of everyone else we asked, and because of Tim there's a faint sniff of a chance that we might get this show a regular slot on the radio waves, although alas this was a pilot and it won't be broadcast. I'm sorry you couldn't be there to share in the loveliness and fun, but do have a look at the brilliant snaps taken by Matt Humphrey on the day, to see us in action. Hopefully we'll meet again, you and I. Come and like me or follow me (but please not like Joss Stone, that's too much) and one day Tim and I might be able to reprise our little slice of half-baked interview pie, and this time he won't call me a wanker.
That's where the baking metaphor, and my blog, ends.
Byeeeee!
Joe x"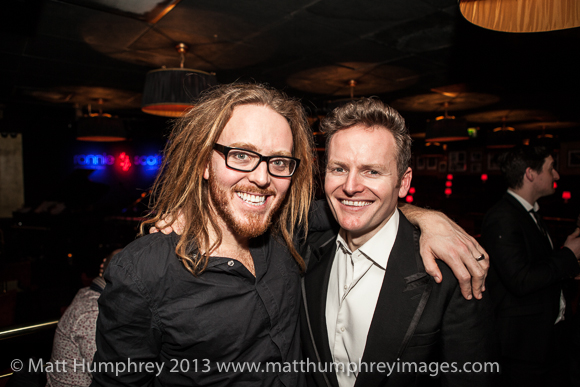 www.joestilgoe.com
Facebook: Joe Stilgoe
Twitter: @joestilgoe
Photos: www.matthumphreyimages.com
For a gallery of Matt's images from Joe Stilgoe's BBC Radio Pilot click here.