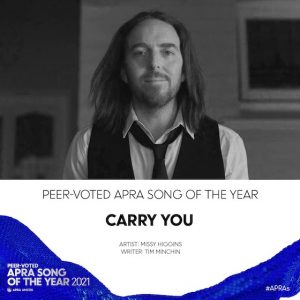 Carry You, written by Tim for UPRIGHT and released by Missy Higgins, has been nominated in the Song of the Year category at the 2021 APRA Music Awards.
The APRA Music Awards celebrate excellence in contemporary music, honouring songwriters and publishers who have achieved artistic excellence and outstanding success in their fields.
Tim: "I am very pleased indeed that Carry You (as sung by the great Missy Higgins) has been nominated for APRA AMCOS APRA Song of the Year. It's up against songs by Tame Impala, Amy Shark, Midnight Oil & Dan Sultan, Guy Sebastian, so I've got feck-all chance of winning… but YAY! Really thrilled actually, cos it's peer voted and all. And am also excited cos on the awards night, another Aussie artist (I don't know who – it's a secret) will play a version of it live!"
You'll find the full list of nominees for the 2021 APRA Music Awards here.
Playlists of the nominated songs can be streamed on YouTube Music, Spotify and Apple Music.
The 2021 APRA Music Awards take place on Wednesday 28th April at the International Convention Centre Grand Ballroom at Darling Harbour in Sydney. You'll be able to watch rolling highlights on the night via the APRA AMCOS YouTube channel.