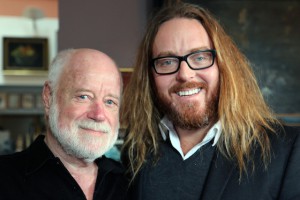 ABC TV's Meet the Mavericks is an interview series featuring some of Australia's most iconic artists, performers, thinkers and cultural leaders. Each episode sees two of these creative talents (and troublemakers) come together to compare notes and talk intimately about their view of the world, their passions, what inspires them, what drives them and how they channel this into their creative process. (Photo courtesy of ABC Arts)
Tune in to Episode 4 on Tuesday 3rd May, 2016, at 10pm, for two humanists: Phillip Adams and Tim. Late Night Live radio host and godfather of the Australian film industry, with a regular column in The Australian, Phillip Adams and Tim (composer/lyricist, musician, comedian, actor, writer and director) talk about life, art, identity and religion.
The episode will join the others on ABC iView once it airs.
Here's a clip to whet your appetite:
(more…)