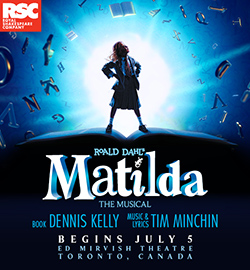 Tomorrow, Tuesday 19th April 2016, sees Tim attending and performing at the launch event for the Canadian production of Matilda The Musical, at the Ed Mirvish Theatre in Toronto.
There will be a live feed of the highlights between 2:30pm and 3:30pm (EDT) on the Mirvish Productions Facebook Page. 'LIKE' the page to watch.
That's 7:30pm (BST) in the UK and for Australian night owls/insomniacs/very early risers that's 4:30am (AEST) 20th April.
In addition, the event will be live tweeted by @Mirvish with images going up on Instagram @mirvishproductions. #MatildaTO
Toronto will be the only production of Matilda in Canada.
Tickets are already on sale for performances from 5th July up until 4th September, 2016, from www.mirvish.com or by phone at TicketKing at 416-872-1212 or 1-800-461-3333.
Tickets can also be purchased in person at the Royal Alexandra Theatre Box Office, 260 King Street West. Group orders of 10 or more may be placed by calling 416-593-4142 or 1-800-724-6420.

More information can be found on the Matilda The Musical website and if you'd like to see the story of Matilda's adventures internationally, including many reviews, photos and videos then take a look here.