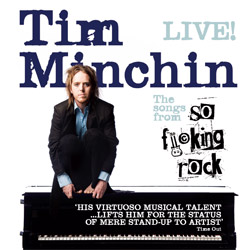 After its release last year on iTunes, the audio from the So F**king Rock Live DVD is finally available on CD too!
As Tim so eloquently put it in his blog post, "It is simply the audio from the DVD with the stand-up bits cut out, remixed by the clever ears and fingers of Mr Pete Clements." The full tracklist looks a little bit like this:
1. So F**king Rock
2. Inflatable You
3. Rock 'N' Roll Nerd
4. Mitsubishi Colt
5. Ten Foot Cock and a Few Hundred Virgins
6. If You Open Your Mind Too Much Your Brain Will Fall Out (Take My Wife)
7. F Sharp
8. Canvas Bags
9. Nothing Can Stop Us Now
10. Some People Have It Worse Than I
11. If You Really Loved Me
12. Peace Anthem for Palestine
13. You Grew On Me
14. Dark Side
15. Not Perfect
16. Second Encore
You can grab yourself one of these silvery discs of goodness from this very website, whether you're in Europe, North America or Australasia and if you're in the UK, you might also get the opportunity to spot one of them in the wild at your local record shop!