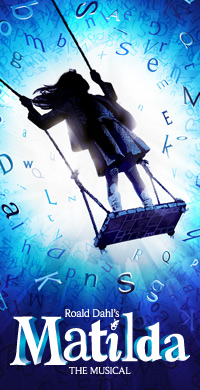 Matilda, West End
You may have already noticed that Matilda The Musical has been nominated for Best West End Show in the 2014 Whatsonstage Awards. These awards are nominated by and voted for purely by theatregoers and the ticket-buying public.
Voting opened in December and Matilda is up against Les Misérables, The Phantom of the Opera, War Horse and Wicked. Sterling competition.
Matilda is currently second, just 2% behind Les Mis… the show that pipped Matilda to the post for this award last year! Close huh?!
So if you'd like to help make it Matilda's year for this award, you can cast your votes here!
There are a great many categories and you can only vote once but you can vote in as many or as few categories as you like. The Best West End Show category is near the bottom of the list.
Voting closes on the 31st January, 2014 and the winners will be announced on the 23rd February, at the Awards Ceremony and Concert.
Matilda, Broadway
In more exciting award news: The RSC's Matilda Broadway cast album has been nominated for a 2014 Grammy Award, in the musical theatre category! The 56th Grammy awards will take place on the 26th January, 2014, at the Staples Center in Los Angeles. More information here and here.
*****
Oh, just in case you haven't seen it, here's a lovely photo of Tim with the original Stratford-upon-Avon Matildas, way back in 2010, before the show moved to The Cambridge in London's West End:
There are more photos, videos and the story behind Tim writing the music and lyrics for this marvellous show on the Matilda Page.