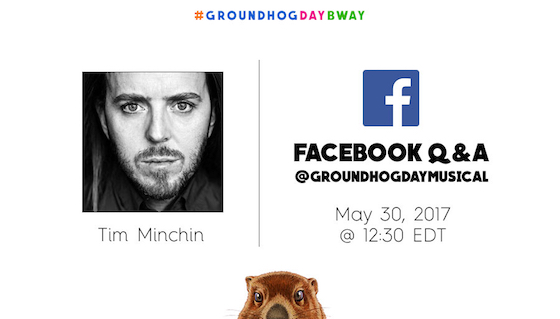 This Tuesday, 30th May at 12:30 EDT, Tim'll be doing a Groundhog Day The Musical themed Facebook Live Q&A!
Tune in to Groundhog Day Musical's Broadway Facebook Page to watch with your questions ready to put to him. Whether you've seen the show or not – ask him anything Groundhoggy!
There will be music and dancing and answers… There may be music, dancing is sadly unlikely (unless someone asks very nicely) but there will be lots of lovely answers.
Some Tim-Zones:
12:30 EDT – New York
09:30 PDT – Los Angeles
17:30 BST – London
02:30 AEST – Melbourne (next day – sorry Australians!)
There are various Time Zone Converters available if you'd like to check when to watch live in your part of the world.
If you miss it live, fear not, you'll be able to catch-up here later.