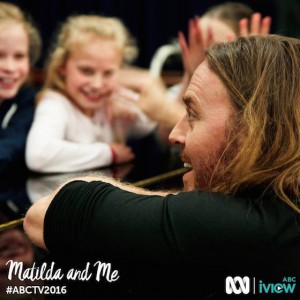 Matilda and Me airs Sunday 3rd April at 7.40pm on ABC.
Narrated by Tim's sister Nel, who co-directed with Rhian Skirving, Matilda and Me tells the story of Matilda The Musical's journey to the Sydney Lyric Theatre, where the Australian production of the global smash hit opened last year.
Through a mix of footage (including some rare family moments), interviews, musical performance and Australian Matilda The Musical rehearsals, Matilda And Me charts Tim's long-term fascination with Roald Dahl and the intimate relationship that developed between him and the multi-award-winning musical, for which he is now internationally known.
Here's a little teaser:
Nel Minchin: "Anyone who has a brother or sister knows what it's like to grow up so close to someone, and yet still be surprised at who they turn out to be. It was a chance for me to go back in time and piece together how my brother Tim became 'Tim Minchin' right before my eyes."
Tim: "When Nel approached me about being involved in a Matilda doco, I was mostly just excited that she (and her co-director, Rhian, who is one of my best mates) had an excuse to come to LA to hang out. But what they've created is really lovely and surprising. They have explored my (unremarkable) origin story, and woven it beautifully into the (remarkable) origin story of this musical… celebrating the world-class Aussie theatre industry on the way. Clever sis."
UPDATE: Matilda and Me will be available on ABC iView until 8:40pm on 18th April 2016, where you can now also watch SEVEN exclusive behind the scenes extra clips.
Matilda and Me is an IN FILMS production for the ABC.
There are a few more details on our earlier announcement here.
There's no word yet as to whether this will become available outside Australia but, as always, we'll let you know if we hear anything.