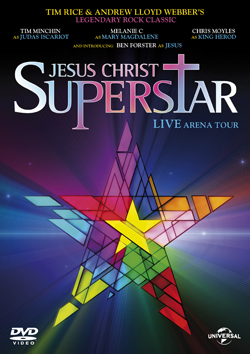 The spectacular Jesus Christ Superstar arena tour of Australia is already rocking around the country, with Tim reprising his (award winning) dream role of Judas Iscariot, for delighted and emotional home crowds.
If you can't make it along to one of the shows or missed picking up a DVD at the arena and want to relive the experience, then here's some good news:
The Jesus Christ Superstar Arena Tour DVD will be released in Australia on the 4th July 2013! The DVD (or Blu-Ray, if you wish to examine Tim's dreads, tatts or steely blues in minute detail) is available for pre-order now from: the Jesus Christ Superstar website, EZYDVD, JB Hi-Fi and many other DVD retailers.
The production was filmed over two nights at Birmingham's NIA when the show toured UK arenas in 2012. As well as Tim in the role of Judas, the fabulous cast includes Melanie C as Mary Magdalene, Chris Moyles as King Herod and Winner of the ITV primetime show Superstar Ben Forster in the title role of Jesus.
Here are a few clips to get you in the mood… or rather various moods:

Damned For All Time
Gethesemane
Judas' Death
Superstar
Rocking that tambourine Tim!