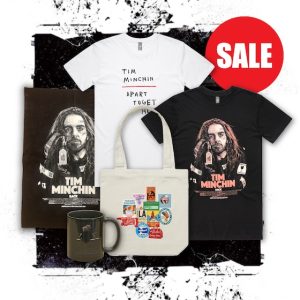 The official Tim Minchin Australasia store is having a Christmas/End of Year Merch' Sale!
You'll find all sale items here or you can browse the full collection here.
Order by the 12th December within Australia for a pre-Christmas delivery, with the exception of WA and NT which would need orders by the 7th December.
International orders will be delivered as quickly as possible, but they may not arrive until after Christmas at this stage.
Some (hopefully) helpful details for International shipping

International postage & packing on deliveries up to 500g is:
NZ – AUD 19
USA – AUD 26.90
ROW – AUD 26.90
International postage & packing on deliveries 500g – 3kg is:
NZ – AUD 25
USA – AUD 36
ROW – AUD 40
Product weights:
T- Shirts 200g
Totes 200g
Mugs 400g
Hoods 600g
Vinyl 600g