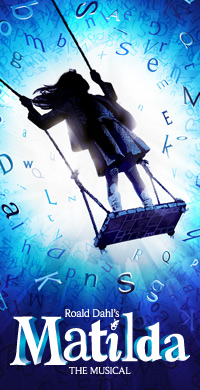 The four young actresses who are excited to share the title role in the Australian Premiere Season of the Royal Shakespeare Company's production of Matilda The Musical were announced today. They are (in alphabetical order) Molly Barwick, Sasha Rose, Georgia Taplin and Bella Thomas.
Matilda The Musical, commences performances from July 28th, 2015, at the Sydney Lyric Theatre with tickets currently on sale via the Matilda The Musical website for performances through to October 25th.
When news first broke that Matilda was joyfully swinging over to Australia, Tim said: "Working on Matilda has been one of the greatest thrills of my life, and I've been aching to let her loose on audiences at home. Most of us grew up reading Dahl – the Australian sense of humour gels so well with his dark, iconoclastic tone. The last time a musical I helped write opened in Sydney, the actors almost outnumbered the audience, the theatre leaked, and my drummer was a bass player. If Matilda's arrival is half as fun as that was, it'll be a hoot."
All four of Sydney's Matildas will be making their professional musical theatre debut.

Today, the girls were taken around Sydney in a London taxicab! You can see photos of their day and future announcements on Matilda Australia's Facebook, Twitter and Instagram accounts.
Last month four of the principal adult cast members were revealed as, (in alphabetical order), Marika Aubrey (Mrs Wormwood), Daniel Frederiksen (Mr Wormwood), Elise McCann (Miss Honey) and James Millar (Miss Trunchbull).