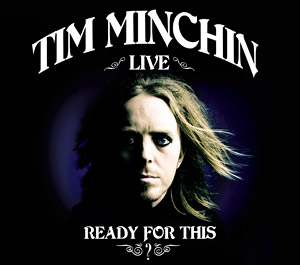 Yes! It's the long-awaited, long-clamoured for announcement that Tim will finally be releasing a DVD in that popular NTSC, region 1 format!
On the 27th September, you will be able to get your paws on a US-exclusive version of 'Ready For This?' from all good DVD retailers, online from the usual places (you know, like Amazon, Tower Records, Best Buy, etc) and at his forthcoming US gigs!
The DVD features the same show that was released in the UK last year, recorded in 2009 at the Hammersmith Apollo in London, with costumes, flashy lights, explosive pyrotechnics and a nice, shiny piano. Also, as if that wasn't enough, you guys are super-lucky and will be among the first to own the animated Storm movie on DVD, as it's been included as an extra!
The fun doesn't stop there as there will be an additional sparkly* bonus CD of 'Ready For This?' as recorded at the Queen Elizabeth Hall on 2008, with a full band and a string section!
For those who are still unsure about the whole thing, or who simply want their appetites whetted, here's a sneaky preview in the form of Confessions.
Finally, for those wondering about what's happening with Tim's stuff on iTunes, we can confirm that the 'Ready For This?' album will be available on there soon!
*metaphorically