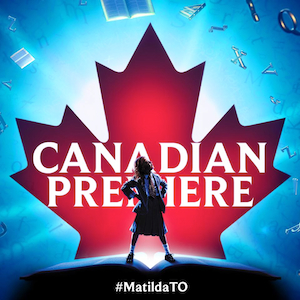 On Thursday, the Royal Shakespeare Company's Canadian production of Matilda The Musical had its official Opening Night at the Ed Mirvish Theatre in Toronto!
Three young actresses alternate playing Matilda, with Hannah Levinson swinging gloriously into action in the title role for the premiere. Jaime MacLean and Jenna Weir make up the rest of the Toronto Matilda trio.
They are joined by the principals (in alphabetical order) Paula Brancati (Miss Honey), Dan Chameroy (Miss Trunchbull), Keisha T. Fraser (Mrs Phelps), Brandon McGibbon (Mr Wormwood) and Darcy Stewart (Mrs Wormwood).
Tickets are on sale for performances up until 16th October, 2016, from www.mirvish.com or by phone at TicketKing at 416-872-1212 or 1-800-461-3333.

Toronto will be the only production of Matilda The Musical in Canada
More information, including full cast details, can be found on the Matilda The Musical website and if you'd like to see the story of Matilda's adventures internationally, including many reviews, photos and videos then take a look here.