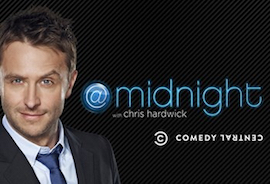 Next week, Tim'll be joining Eddie Izzard and Kristen Schaal on the panel of @midnight on Comedy Central! This will be his third appearance on the internet-themed improv comedy panel show, hosted by Chris Hardwick.
The show will air on Comedy Central on Tuesday 20th June, 11:30/10:30c. Check your local schedules for further details. Episodes can be found for catch-up on the Comedy Central @midnight website after they air.
Tim will be recording this episode on Monday 19th June, 8:30pm, at Hollywood Center Studios, so if you're in or near LA, you might like to request tickets here.