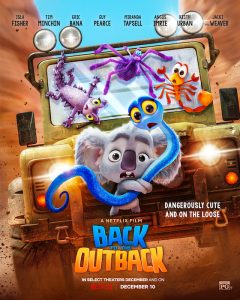 BACK TO THE OUTBACK, the new animated family comedy is out only on Netflix. It tracks the adventures of a group of "deadly" but cute animals and a narcissistic celebrity koala called Pretty Boy (voiced by Tim!).
The movie stars Isla Fisher, Tim, Eric Bana, Guy Pearce, Miranda Tapsell, Angus Imrie, Keith Urban, Aislinn Derbez, and Jacki Weaver.
Tim wrote and recorded Beautiful Ugly, featuring Evie Irie, for the credits. The song has been released as a single, available to stream or download here and as part of the full soundtrack album here, where you'll also find another song written by Tim for the movie: Maddie's Lullaby, sung by Thelma Plum.
There's a lyric video for Beautiful Ugly:
A few more videos to whet your appetite:
The Official Teaser is pretty fun.
Here's the Official Trailer:
Tim: "Pretty Boy is not, if we're honest, the least narcissistic marsupial on the planet":
#BackToTheOutback
Netflix
Sony Music Soundtracks