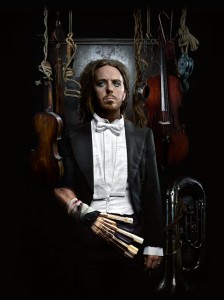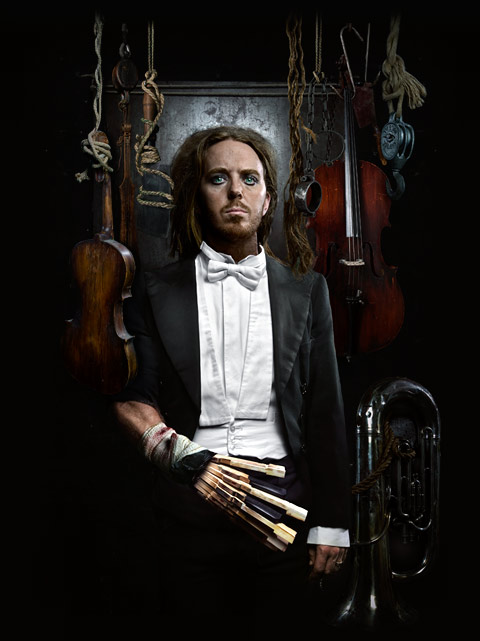 Quick! There are now just three regional orchestra shows left: Glasgow, Sheffield and Liverpool. That's only three chances remaining to see Tim on his unique, one off, UK tour with the fabulous 55-piece Heritage Orchestra and a band! No more dates will be added so if you can possibly get yourselves to one of the venues below, you really must!
This spectacular show has been receiving three standing ovations a night and in their 5* review of the Edinburgh show last weekend the Edinburgh Evening News praised the "vast flood of sound and light" and described Tim as "…the extraordinarily talented Minchin. With his wild backcombed hair, bare feet, and leaping-from-the-piano antics, he looks the classic comic fool, but blends passionate, intelligent writing on topics from atheism to cheese with a backing of orchestral belters. Amid the hubbub it's easy to overlook the fact that he also throws in some extraordinarily good piano-playing. Most important of all, he's downright funny."
You can access ticket information for all Tim's shows via the Gigs tab at the top of the page, but here, just because we care, are all the booking alternatives still available, for these final extraordinary orchestra shows:
Glasgow
Sunday 8th of May 2011
Venue: Clyde Auditorium
Box office: 0844 395 4000
Ticketmaster
Ticketsoup
Sheffield
Tuesday 10th of May 2011
Venue: Motorpoint Arena
Box office: 0114 2 56 56 56
Motorpoint Arena
Seetickets
Ticketmaster
Liverpool
Wednesday 11th of May 2011
Venue: Echo Arena
Box office: 0844 8000 400
Echo Arena
Seetickets
Ticketmaster
So if you have yet to see this show or like many were so blown away by it when you caught an earlier show that you'd like a second chance, now's the time to act. Don't miss out on such a treat for the senses.
"If you're going to play big spaces, this is the way to do it; with a 55-piece orchestra and a juggernaut full of showmanship, making this a big show in every sense…a superlative night out." (Chortle)
"Minchin…the insanely gifted Australian is rounding off the year with an audacious show that sees him accompanied on stage by the 55-piece Heritage Orchestra…Taken all in all, a thing of jaw-dropping wonder." (Daily Telegraph, London)