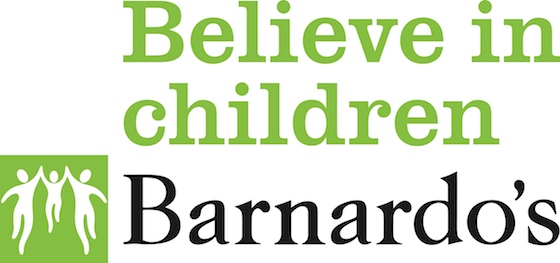 Ipswich: Supporting the work of Barnardo's in Suffolk – Barnardo's is committed to supporting the UK's most disadvantaged and vulnerable children, including those affected by poverty, abuse and neglect. They stand by them and help them to rebuild their lives and look forward to a positive, happy future. Barnardo's never gives up on any child and believes that, given the right tools and support, all are able to succeed and thrive.
Oxford: Barnardo's Oxford Short Breaks – Provides respite care for some of Oxford's most severely disabled children, giving them the opportunity to learn and play, to enjoy new, fun experiences, to go on outings, and truly make the most of their childhood
Sheffield: Barnardo's Sheffield Priory – Supporting single parents and parents in struggling families to keep in contact with their children and helping their families' stay strong and together.
Nottingham: Barnardo's Butterfly Project – Works with children with severe and often terminal conditions, helping create happy childhood memories.
Manchester: Barnardo's Big Manchester works with some of the city's most disadvantaged families, including those affected by poverty, domestic abuse and neglect. They work with the whole family to help them turn their lives around and look forward to a happy future together as a family.
Cardiff: Barnardo's Family Wellbeing Service – Provides counselling, play therapy and wellbeing group work to help children and families find positive ways of addressing and coping with the issues they face, building their resilience and wellbeing and creating happy, healthy families that can thrive.
Liverpool: Barnardo's Start Smart – Helping young people who have grown up in care and had no positive parental role models, to break that cycle and be kind, caring parents themselves.
Portsmouth: Barnardo's U-Turn – Supporting amongst others, vistims of child trafficking – keeping them free from exploitation and safe from harm.
Plymouth: Barnardo's Plymouth Future First – Helping young people who've grown up in the care system to identify their needs, goals and ambitions and make them a reality.
Hammersmith: Barnardo's TIGER Project – Working with children in Hammersmith & Fulham who've suffered traumatic childhoods to grow up strong and resilient.
Birmingham: Barnardo's Birmingham Space – Supporting children who've been subject to exploitation to break free from their abusers and move forward with their lives.
Edinburgh: Edinburgh 16+ Working with young people in care to attain and sustain accommodation and access mental health, legal and community support services, helping them transition to happy, independent lives.
Newcastle: Barnardo's Newcastle Young People Support – Keeping hundreds of vulnerable children and young people safe from harm, building on their strengths to see them become happy successful adults.
Glasgow: Barnardo's Youth Involvement Project (YIP) provides early intervention services to children and families living in poor housing, experiencing parental substance use and imprisonment, focusing on building resilience & confidence, addressing social exclusion and improving life chances.
Brighton: Barnardo's Supported Lodgings offers young people leaving the care system a safety net – a room in home of a trusted host, who as well as giving them somewhere to live also teaches them vital practical life skills like cooking and budgeting, and helps them engage with education and work, ultimately supporting them to thrive as an independent adult.
Southend on Sea: Barnardo's Family Centres across Essex offer a safe space for children to play and learn with other children, as well as providing a range of crucial advice and support for mums and dads that helps them learn to be the best parent they can possibly be for their child.