You know how on Tuesday we mentioned that Sam Leach's portrait of Tim was one of the finalists for the Archibald Prize, one of Australia's most prestigious art awards? Well, it's only gone and won!
Leach said he approached Tim to do a portrait, "primarily because I really like his style of comedy," as well as seeing parallels between the pair's lives.
"The topics he deals with – social commentary, the appeal to reason over religion and that kind of thing – tie in with my work.
"But in a funny way I also see my career reflected in his. His career is much bigger than mine but we became successful in our fields almost simultaneously and our first and second children were also born about the same time."
He continued, "It was very important for me to get the toes in because he performs with bare feet and I was very happy with them."
Tim gave this statement about his portrait: "What I like about my portrait is that it's clear young Samuel has really put some effort into it. I particularly like how he made my lounge room floor look so clean – this will please my mother – and I'm seriously considering buying a print."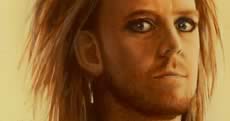 Click the thumbnail to see the full prize-winning portrait.