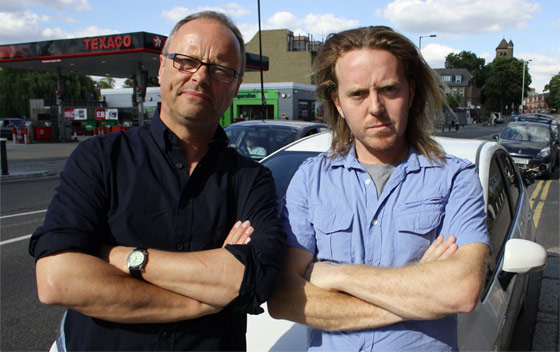 Tim and Robert by kind permission of UKTV
Tim joins Robert Llewellyn on Carpool on the 12th January 2011, 8:30pm on Dave. The other guest that episode is David Baddiel.
Robert Llewellyn, who you'll probably know from Red Dwarf and Scrapheap Challenge, started Carpool, a very successful video podcast, some time ago. Uniquely, he interviews people of interest and celebrities as he picks them up and drives them to their destination. It was picked up by the UK digital TV channel, Dave.
The series started last year, with guests including: Chris Addison, Ross Noble, Rufus Hound and Rob Brydon, had a brief winter break over Christmas and will be back on our screens with Tim on the 12th January.
You can find more information on the show and watch a few preview snippets of Tim (being a nerd) and David from the upcoming show here. The page talking about Tim on the show, and with that photo of Tim and Robert can be found here.
Where do you reckon Robert will be driving Tim then?