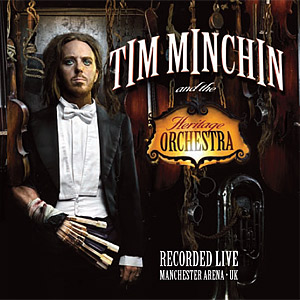 Have you been sat around, waiting for Tim to release a recording of his new, fancy, orchestra show? You'll like this then!
At the end of March, Tim will be releasing a recording of the show he did with The Heritage Orchestra at Manchester Arena on both CD and iTunes! (Don't worry, we'll remind you of this closer to the time).
Lucky Australians who are seeing him live in the next couple of months will be able to pick up a copy before anyone else at the merch stand!
I'm sure some of you are thinking, "I've already got a copy of the o2 one; why's he releasing it again?". Well here's why: the o2 recording was a limited run, so congratulations if you managed to get yourself a copy!
It's also worth pointing out that this release will feature only the songs and not the talky bits, making it perfect for your mp3 player!
You'll be getting a copy once it's released, won't you? Don't make me use the puppy-dog eyes…