We announced it over a month ago, but now the time has finally come to tell you that the double-CD album, 'Tim Minchin and The Heritage Orchestra', is now available for you to buy (kinda)!
The tracklist looks a little something like this: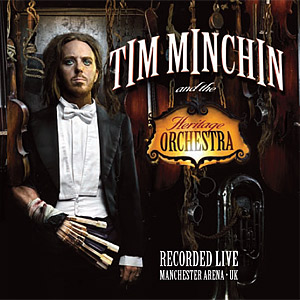 Disc one
I'm In A Cage
Rock n Roll Nerd
Cont
If I Didn't Have You
Thank You God 

*

You Grew On Me
The Fence
Disc two
Prejudice
Lullaby
The Pope Song
Cheese
Beauty
Dark Side
Not Perfect
White Wine In The Sun
The album is available worldwide for you to buy on iTunes now for a rather reasonable price and there's a nice link for you here. And a reminder, also available on iTunes is the studio version of The Fence.
If you're in the UK, the CD version will be available from this here website from the 15th April and also at Tim's forthcoming orchestra shows, while Australians are able to buy it from shops, as we mentioned earlier.
If you're elsewhere, you're going have to import it from one of the above options, but it rather pretty.
Oh, and we'll post this nice medley of clips from Lullaby, Dark Side and You Grew On Me again in case you missed it the last time and want to try before you buy.
*also known as Sam's Mum
UPDATE (18/05/11): This album is not currently available on iTunes in the US. We'll update this once it's available again.