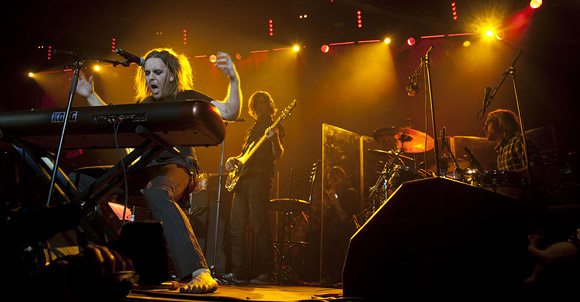 Tim rocking out during his orchestra show, with Pete Clements on bass and Brad Webb on drums.
Tim: "Not only are Pete and Brad reasonably good-looking and quite competent on their respective musical instruments, but they have garnered the basic skills required to read and write words. So we thought we'd celebrate the final shows of our epic and wondrous orchestral spectacular by encouraging them to express themselves in prose on this here blog. Exciting."
You can still catch Pete Clements and Brad Webb at the final three dates with Tim and The Heritage Orchestra in Glasgow, 8th May; Sheffield, 10th May and Liverpool, 11th May. Details and ticket links below or via the Gigs tab.
…..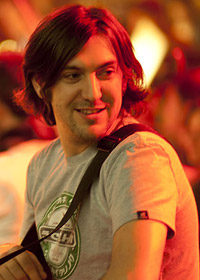 "Hi there I'm Pete. I'm a Musician and Music Producer based in south London. I first started working with Tim as a sound engineer about four years ago, when he was planning his first uk tour. Luckily I was able to fool him into believing that I had some kind of talent and he has kept me involved in various different projects over the last few years. He first mentioned his idea to include an orchestra in his show about a year ago; first I obviously thought it was a totally mad idea but as with most things Tim, it has turned out to be a stroke of genius.
Tim (knowing my background and training in the world of classical music) also offered me the opportunity to orchestrate two of his songs which was a great honour. I have written several pieces for orchestra but never thought I would hear them played somewhere as grand as the Royal Albert Hall or the Sydney Opera House. As those of you who have seen the shows will know, the sound of a symphony orchestra blasting out 'Rock n Roll Nerd' is really an incredible experience, so you can only imagine how it feels to hear it for the first time having spent a couple of months hoping that what you have written would turn out to sound as massive in real life as it does in your head!!
It's been a real blast playing these shows and such a shame that it is coming to an end. The Heritage Orchestra are an amazing bunch who really put their all into the shows and Brad is actually quite good at hitting things too. My only regret is not being able to persuade Tim that his accordion accompaniment to the waltz section of cheese should be included in the show; there really is nothing more stupid than seeing Mr Minchin prancing around a rehearsal studio speaking faux French with an accordion in his hand, pure genius!!"
*****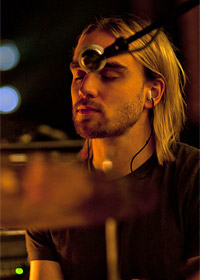 "Hello, my name is Brad. I am a professional drummer based in London. I've been playing with Tim since about September last year. I was a fan of Tim's long before I played with him as I saw him perform in Edinburgh one of the first years he played there. Our paths crossed when we both played on the Jonathan Ross Show. I was playing with Jamie Cullum (as was Tom Richards, sax player in The Heritage Orchestra and orchestral arranger of 'You Grew On Me' and 'Cont') and we bumped into each other in the green room. I still remember the look of shock on Tim's face when he first saw me, thinking how similar we looked**. Oddly, Jonathan Ross came bounding up to me when I arrived at BBC TV Centre and started effusively welcoming me. I was a bit shocked and flattered but hadn't had the time to get off the phone whilst he was speaking to me. Shortly afterwards I realised he had thought I was Tim and later told the audience what a "rude little fucker" Jamie Cullum's drummer was for not getting off the phone.
Playing with Tim has been a real treat and there have been some hilarious moments so far. One which springs to mind was during one of the arena warm-up gigs in a small venue in Cambridge. Tim decided that we would play a song that I had never played before. He 'taught' me the song in front of the audience and gave me some hand signals for cues which he then proceeded not to use. He was also trying to teach me backing vocal parts during the chorus and at one point shouted, "FUCKING SING, EMPLOYEE!". Luckily, we've been a bit better rehearsed for the actual tour so I haven't been on the spot again, though Minchin still loves to single me and Pete out for a bit of piss-taking. Rightly so, as his employees.
This has been one of the most fun, absurd and musically satisfying tours I've done and I hope I'll be sharing the stage with Minchin and Pete (and The Heritage Orchestra) again soon.
**Quite frankly, if both of us shaved our heads, me and Tim wouldn't look very similar. For this reason, I am actually considering it……"
*****
LAST three Orchestra show dates:
Glasgow
Sunday 8th of May 2011
Venue: Clyde Auditorium
Box office: 0844 395 4000
Ticketmaster
Ticketsoup
Sheffield
Tuesday 10th of May 2011
Venue: Motorpoint Arena
Box office: 0114 2 56 56 56
Motorpoint Arena
Seetickets
Ticketmaster
Liverpool
Wednesday 11th of May 2011
Venue: Echo Arena
Box office: 0844 8000 400
Echo Arena
Seetickets
Ticketmaster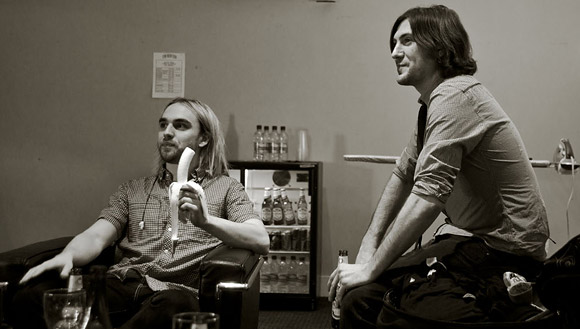 Backstage… other captions are available…
All photos by Rich Hardcastle.