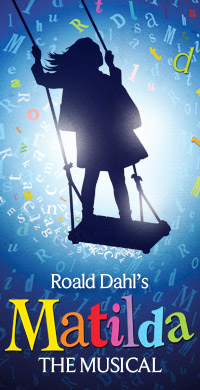 It's almost upon us!
The gorgeous Matilda The Musical cast recording for which Tim wrote the music and lyrics, recorded with the original Stratford-upon-Avon cast, will be out next week. It will be released on Dahl Day, the 13th September 2011 and available from the shop in Stratford-upon-Avon and online from the RSC shop, where you can already pre-order it.
Click right here for a special surprise taster treat!
For those who've been asking: Yes, it will also be available from iTunes, but not until the 18th October which is the date of the first preview performance at the Cambridge Theatre in London's West End.
There's a lot planned for Dahl Day: As well as the CD release, the names of the four young actresses playing the role of Matilda will be unveiled. The rest of the cast was announced last month as we detailed in this blog post. So keep an eye on the Matilda The Musical website where you can sign up to the RSC mailing list, find links to them on Twitter and Facebook and crucially buy tickets to the show.
If you need to catch up with the Matilda The Musical story so far or would like to view videos and read some of the many four and five star reviews the show received in Stratford-upon-Avon, pop on over to the Matilda page.