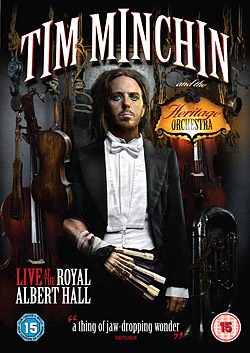 Finally, we can bring you all the details of Tim's forthcoming DVD and Blu-ray release of Tim Minchin and The Heritage Orchestra!
Filmed in stunning high-definition at the Royal Albert Hall in London with the fabulous Heritage Orchestra (led by the suave Jules Buckley), this show features reimaginings of classic hits, such as You Grew On Me, Not Perfect, Dark Side, Prejudice and Rock n Roll Nerd alongside brand-spanking new tracks, including Cont, Thank You God, Cheese, Lullaby and The Fence!
There will, of course, also be some succulent extras included, which come in the shape of the gorgeous animated Storm movie and the mini-documentary, Behind the scenes: Nothing Ruins Comedy Like Arenas & Tim Meets the Orchestra!
In Australia it'll be out on the 23rd November on DVD and Blu-ray.
In the UK it'll be released on the 14th November on DVD, Double play (DVD and Blu-ray) and as a special, limited, DVD edition from Amazon, which comes with an exclusive t-shirt (size: medium) and a bonus CD of Tim performing two tracks from Matilda The Musical, all packaged nicely in a collector's tin.
If you're looking for a place to get your paws on copies, then we'll have links for you to do just that on the Shop Tab (above) shortly. Simply select your shop from Australasia, Europe or North America. Alternatively, check out Amazon or your usual retailer.
We'll also have some exclusive clips available for you soon, however, to whet your appetite for this feast of a show, here's the trailer for the UK release! Extra points if you can name who's doing the voiceover!
Tracklist:
1. I'm In A Cage
2. Rock N Roll Nerd
3. Cont
4. If I Didn't Have You
5. Thank You God
6. You Grew On Me
7. The Fence
8. Prejudice
9. Lullaby
10. The Pope Song
11. Cheese
12. Beauty
13. Dark Side
14. Not Perfect
15. White Wine In The Sun