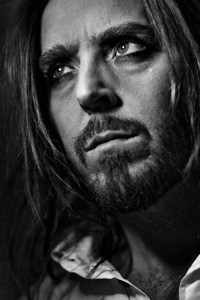 Tim's had his photo taken again! This time it's an intimate and pensive shot for Tough Crowd, an exhibition of photographs by Dave Brown ('Bollo' the Gorilla from The Mighty Boosh) in partnership with Afrikids.
They are portraits of many fine and well-loved comedians on the circuit, including: Tim, Tony Law, Tim Key, Ross Noble, Bill Bailey, Richard Ayoade, Julia Davis, Noel Fielding, Julian Barratt, Nick Helme, Sara Pascoe, Davis O'Doherty, Chris Addison and many many more. Brown asked Tim and all his subjects to recall their worst moments on stage in order to capture some of the 'dark side' to stand up and achieve a moody and melancholy air to the collection.
The exhibition is at The Strand Gallery until 15th December 2012.
Limited edition prints are being sold here with all profits going to AfriKids, which is a child rights organisation working to improve life for Ghana's most vulnerable and disadvantaged children.
They are available in A3 size for £50 and A2 for £75. So you can browse the whole impressive collection via the link above or go straight to A3 Tim or A2 Tim for that Christmas gift that makes you popular forever or that treat to yourself just 'cause, in the knowledge that you are helping out a terrific charity which does amazing work.
Afrikids work ranges from traditional children's projects including foster homes, schools and street child centres as well as tackling complex cultural issues such as child trafficking and child labour. You can donate or find out more about their work here.