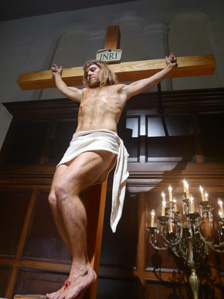 Hi all, me here.
For some time I've been keeping certain tunes off t'internet in order to ensure audiences of my live shows get a few surprises. I like surprises.
However, as an Easter gift I'm putting the Tim Minchin and the Heritage Orchestra (UK, Aus) version of "Thank You God" up on the YouTubular for y'all to enjoy. I do hope you do. It's embedded at the bottom of this bloggerage.
The vid has a bit of standup on it too, because the song requires a bit of context for ye first-time listeners. You can skip to 05:25 if you wanna just hear the song.
A wee warning – it ain't suitable for work or for those who are sensitive to irreligious content.
I want to also take this opportunity to point you towards my new shop. My webman, Neil, has been working hard on getting the thing more efficient and easier to use. And there's a few new bits of tatt there, with more to come soon. I don't recommend you buy a tee shirt with a massive picture of my massive head on it, as I think it's a weird thing to do. However, you people do shit that I think is weird all the time… so knock yourselves out: UK & Europe Shop, Australasia Shop and North America Shop.
Hope you get a break over Easter and eat an amount of chocolate that won't trigger diabetes.
Peace out mthrfckrs.
tx