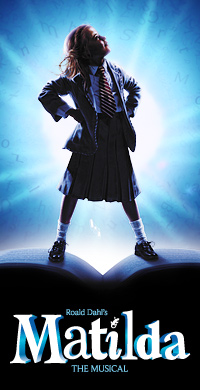 Last night the New York production of Matilda The Musical, for which Tim wrote the music and lyrics, opened at the Shubert Theatre on Broadway to delighted cheers and a full standing ovation. The show, which has been in previews since the 4th March 2013, is today swinging high, feet kicking up to the sky at the marvellously glowing reviews across the board:
The New York Times
Ben Brantley describes Matilda as "the most satisfying and subversive musical ever to come out of Britain, where it was nurtured into life by the Royal Shakespeare Company… even more glorious than we were promised… truly revolutionary."
The Washington Post
Peter Marks says "'Matilda' [is] by some large and tickling measure the most splendiferous new musical of the year…
With a delectably clever score by Tim Minchin and a slyly evocative book by Dennis Kelly, the musical, is distinguished by its wonderful look and a caliber of choreography for young people you rarely ever experience."

Chicago Tribune
Chris Jones hails the production as "far and away the best new musical of the Broadway season, indeed one of the best family-oriented shows of any season" and describes Tim's score as "remarkably rich, occasionally anthemic" singling out "a simple, gorgeous Tim Minchin song, 'When I Grow Up.' "
The New York Post
Elisabeth Vincentelli says "Once in a blue moon, a show comes out blazing and restores your faith in Broadway. A treat for ears and eyes, brain and heart, the glorious 'Matilda' has it all."
Time Magazine
Richard Zoglin proclaims Matilda "the wondrous new musical from London that has just arrived on Broadway. It would be easy to call it the best British musical since 'Billy Elliot', but that, I'm afraid, would be underselling it. You have to go back to 'The Lion King' to find a show with as much invention, spirit and genre-redefining verve." and says "[Tim Minchin] has written a score that seems all but woven into the scenery—simple but distinctive tunes, intricate lyrics, a touch of jazz here, or wailing rock there, but all of a piece, integral to the show and like nothing else."
Matilda The Musical continues to play to packed houses at London's Cambridge Theatre, inspiring and delighting adults and children alike. 250,000 tickets will go on sale on Monday 15th April here for the London production which is now booking until May 2014.
The original cast recording of Matilda the Musical, is available from iTunes and on CD from the RSC Shop. For more information about the show and for tickets to shows in London and New York head to the Matilda The Musical website.