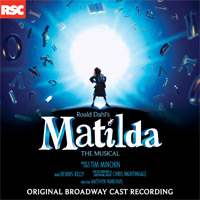 After opening in April 2013 to tremendous critical acclaim and winning a raft of accolades, including four coveted Tony awards, the Broadway production of Matilda the Musical is finally releasing its own original cast recording!
This shiny, new album will showcase all of the songs Tim wrote for the musical and features the exclusive track The Chokey Chant as well as all of the Acrobat stories! The full, juicy tracklist is:
Overture
Miracle
Naughty
First Acrobat Story
School Song
Pathetic
The Hammer
The Chokey Chant
Loud
This Little Girl
Second Acrobat Story
Bruce
Telly
When I Grow Up
Third Acrobat Story
I'm Here (Fourth Acrobat Story)
The Smell Of Rebellion
Quiet
My House
Chalk Writing
Revolting Children
Bows
Americans can get their chocolate-cake-covered paws on this delicious piece of awesomeness on the 27th September 2013, when it'll be available both at the show and from your favourite digital download retailer. The CD will follow soon afterwards, being released in shops on the 22nd October 2013.
If you're not in America, there are plans afoot to release it internationally but nothing's been confirmed yet. Watch this space though, as we'll announce it once we know when it's heading your way!