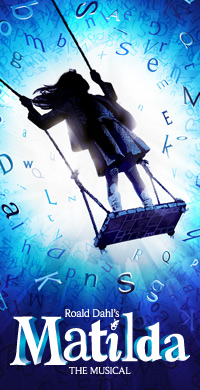 Although, unfortunately, the professional and amateur performance rights for Matilda the Musical are not yet released, the creators of the marvellous West End and Broadway hit are looking forward to releasing a junior version (currently in development) via MTI.
If you are super keen to perform, you don't have to wait for that, because next week it'll be possible for your school to get a licence to perform a short version: Matilda the Musical (in 20 minutes) which features five of Tim's fabulous songs: Naughty, School Song, The Chokey Chant, Bruce and Revolting Children linked by passages and excerpts from the script by Dennis Kelly. This version will be available for a limited time prior to the official release by MTI of the aforementioned Matilda the Musical Junior Version.
Matilda the Musical (in 20 minutes) will be released for schools and amateur youth groups (i.e. performers aged 16 years or younger) in the UK and Ireland ONLY from 4th March, 2014. For more information, and to obtain the rights, please click here to go to the Carasotto website.
At the moment there are no performance rights available to groups anywhere else in the world.
UPDATE (07/03/14): As we have seen some confusion in the comments, to clarify:
This website cannot sign you up to this version, add you to a mailing list for it or give you a licence.
To obtain the rights to Matilda the Musical (in 20 minutes), please visit the Carasotto website.