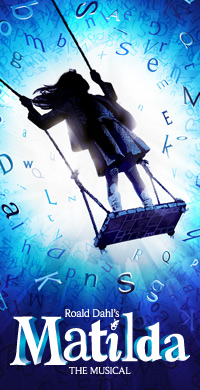 On Sunday 15th June at 3pm, the Royal Shakespeare Company will present the first 'relaxed performance' of Matilda The Musical at the Cambridge Theatre in the West End. The National Autistic Society is working closely with the RSC on this special performance offering full access to the theatre for people with autism and learning disabilities.
Tim: "Through no work of my own, two of my favourite organisations – The Royal Shakespeare Co and the National Autistic Society – have come together to organise a relaxed performance of one of my favourite musicals! I'm so bloody chuffed it's happening, and only wish I could be there to witness it."
The performance will provide a relaxed environment, with elements of the production adapted to reduce anxiety or stress. Lighting and sound levels will be adjusted to soften their impact and there will be a relaxed attitude to noise and moving around the auditorium during the performance. Designated 'chill-out' areas will be provided outside the auditorium with soft seating and activities for people to use if being in the auditorium becomes overwhelming for them.
Tickets for this performance will be offered at the reduced rate of £20 and can be booked through the RSC Ticket Hotline 0844 800 1110 or in person at the Cambridge Theatre box office.
All those who book will be sent a visual story to help them familiarise themselves with the plot, characters and the setting before they arrive at the theatre. Further event details can be found on the dedicated RELAXED PERFORMANCE section of the Matilda the Musical website.
The original cast recording of Matilda the Musical is available from iTunes and on CD. The CD is available from the RSC Shop or the SHOP tab on this site.