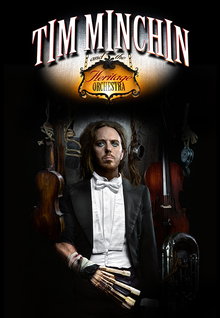 Have any of you Americans worn out your recording of Tim's Showtime special, wanted to see the full show, or were otherwise unable to watch it? If so, then today we have some Rather Good News for you!
The full-length version of Tim Minchin and the Heritage Orchestra, Live at the Royal Albert Hall is now available for you to stream over at Hulu, on the Comedy Dynamics channel!
Recorded in 2011, the show features a raft of your favourite Tim songs, fully orchestrated and backed by the incredible 55-piece Heritage Orchestra. Oh, and there are some jokes in there too.
You can watch Tim in all his barefooted, kohl-rimmed glory now, at this very link: http://www.hulu.com/watch/682332
Those of you subscribed to Netflix are also in luck, as the show will be available there next week!
Are you still reading? Get to it and get watching!