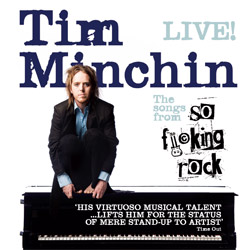 Do you live somewhere other than the UK, Australia and North America?
If the answer to that question is yes and you want to get your mitts on some of Tim's music then read on!
Laughing Stock have released Tim's So F**king Rock Live album as a digital download for a snip at £6.99 and, in addition to that, you can purchase it from anywhere in the world!
The 16 strong tracklist features these classic gems:
So F**king Rock
Inflatable You
Rock 'n' Roll Nerd
Ten Foot Cock and a Few Hundred Virgins
If You Open Your Mind Too Much
Canvas Bags
If You Really Loved Me
Some People Have It Worse Than Me
You Grew On Me
Dark Side
Not Perfect
If you're in Europe, they also offer Tim's other albums – Ready For This? and Tim Minchin and the Heritage Orchestra – for the same price, so if you're a new fan of Tim's, here's your chance to catch up with his back catalogue!