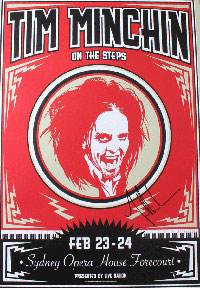 There have been a number of requests for the merch created for Tim's spectacular Sydney Opera House 'On The Steps' show, last month, so it's now been made available through Tim's shop here. They ship internationally.
So, if you attended the gig but didn't get near the merch stall or if you didn't make it to the show but fancy a souvenir of the event with the unique artwork, here's your chance.
There are Limited Edition T-shirts in a range of sizes and Limited Edition Posters, some of which are signed by Tim.
You can access the 'shop' via the tab above, selecting the 'Australasia shop' for these items or directly here: timminchin.bandtshirts.com.au.
UPDATE:The posters are A2 – 42.0cm x 59.4cm.