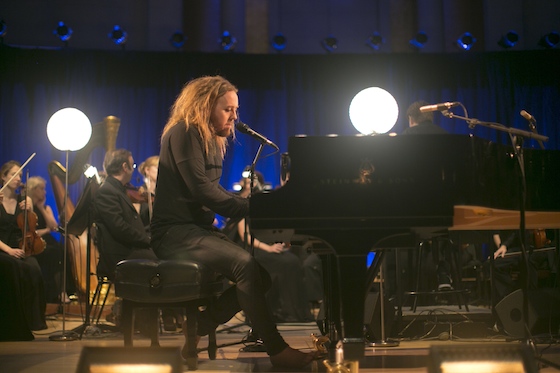 Hopefully you've already spotted that Tim and the Sydney Symphony Orchestra (SSO) have been working with MND Australia on The Fading Symphony, a campaign to raise awareness and funds: for research into finding a cure, to support people living with MND and for global projects fighting ALS/MND. (If you've not yet seen the video then you might like to pop over here to watch it before reading on).
Motor neurone disease (MND), sometimes also referred to as ALS, is a progressive terminal neurological disease with no known cure or effective treatment. Each day in Australia two people die from and two people are diagnosed with MND, which can strike men or women, young or old, from any country, race or demographic. People living with the disease progressively lose the use of their limbs and the ability to speak, swallow and breathe whilst their mind and senses usually remain intact.
The Fading Symphony sees Tim and the SSO, at the Sydney Recital Hall, performing a moving rendition of Neil Finn's Crowded House hit Don't Dream It's Over. As they play, they poignantly illustrate the progression of the debilitating symptoms; highlighting the physical impacts metaphorically through deteriorating performances by the artists. As Tim and the orchestra fall silent a donation is requested, following which the orchestra comes back to life and plays on, flourishing to an uplifting crescendo.
Tim: "I love playing with the SSO, I have aways loved this song, and I loved this idea the minute it was presented to me. Music has the capacity to make us emotionally connect to stories like nothing else. Except, perhaps, silence."
If you haven't already, please watch below or at thefadingsymphony.com and donate:
Please donate $5 (or £s or €s!) at thefadingsymphony.com/donate to help the fight against MND and watch Tim and the orchestra heal and play on!

In this 'Behind the Scenes' video, Tim and Kirsten Harley talk about the impacts of MND and the importance of staying positive when faced with adversity. The videos are part of a short playlist, so it's immediately followed by the 'Making of The Fading Symphony' with some performance clips and Tim talking about the project.
The Fading Symphony was created by independent Sydney creative agency The Works for MND Australia. Don't Dream It's Over was arranged and conducted by Benjamin Northey.
Guy Patrick, creative lead at The Works: "What has stayed with me is meeting Dr Kirsten Harley who lives with MND and is a board member for MND New South Wales… Tim Minchin also met Kirsten and was inspired and moved by her attitude on life."
Carol Birks, national executive director of MND Australia: "Our goal is to help people currently living with MND lead better, longer lives and continue to work towards finding a treatment and cure for this indiscriminate killer."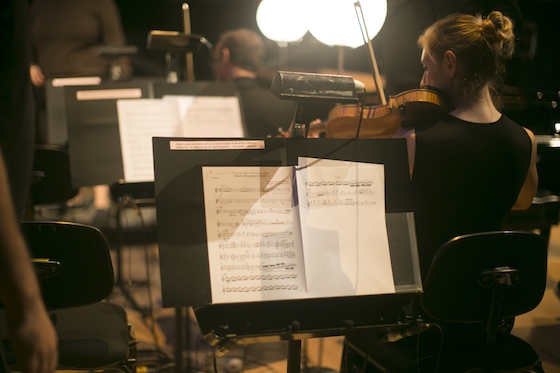 Photos © Copyright Shirley Cai 2015