Good morning! It's the 2nd of the 2nd – actual Groundhog Day.
In Punxsutawney, Pennsylvania, USA, Phil (the superstar Groundhog) will be closely watched as he leaves his burrow. According to the tradition, if Phil sees his shadow and returns to his hole, he's predicted six more weeks of wintery weather but if Phil does not see his shadow, he's predicted an early spring.
In the meantime, let's celebrate by listening to 'Seeing You' performed by Tim and some of the cast and musicians from the Old Vic production of Groundhog Day at the 20th South Bank Sky Arts Awards last year.
To skip the intro start at 0:36.
'Seeing You' is from the musical Groundhog Day, created by Danny Rubin (book), Tim (music and lyrics) and Matthew Warchus (director). The arrangement is by Chris Nightingale.
Backing singers: Jack Shalloo, Carolyn Maitland, Georgina Hagen and Kieran Jae.
Musicians: Fiona Leggat, Justin Pearson, Rutledge Turnlund, Charlie Brown, Amy May and Andy McGlasson.
Groundhog Day's hugely successful and critically acclaimed 10 week season at the Old Vic Theatre, London, in the summer of 2016, recently won FOUR 2016 BroadwayWorld UK/West End Awards including Theatrical Event of the Year AND The Peter Hepple Award for Best Musical at the U.K. Critics' Circle Theatre Awards.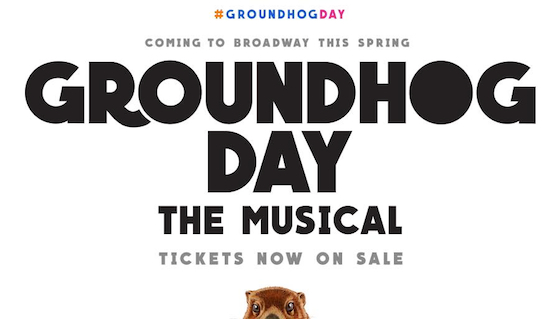 Groundhog Day is now Broadway-bound with previews beginning March 16th, 2017, at the August Wilson Theatre: www.groundhogdaymusical.com