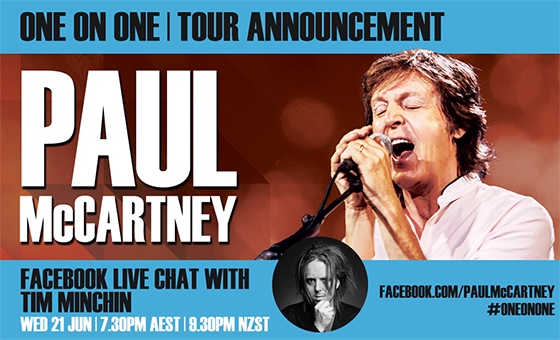 An exclusive event for those in Australia and New Zealand!
Tune in tomorrow, Wednesday 21st June, 2017, from 7.30PM AEST / 9.30PM NZST as Tim goes #OneOnOne with Sir Paul McCartney on Facebook Live!
As well as revealing all the details of Paul's upcoming Australian and New Zealand Tour, Paul will be answering some questions from fans, asked on your behalf by Tim:
For your chance to have a question answered by Paul live tomorrow night, please submit your question here.
The video will remain on Paul McCartney's Facebook Page after the stream ends, viewable only by Australian and New Zealand audiences.
UPDATE (21/06/17): Full details of Paul McCartney's Australia/New Zealand #OneOnOne Tour here.