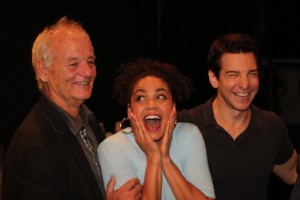 Last Tuesday, Bill Murray, who made the iconic role of TV weatherman Phil Connors famous in the 1993 film, went to see Groundhog Day on Broadway and he LOVED IT! Then, the next night, he went again…
Pictured on the right with the two fabulous Broadway leads: Barrett Doss (Rita) and Andy Karl (Phil).
Sopan Deb, culture writer for the New York Times, covered the event in hilarious detail, in threaded tweets, before writing it up:
I am here at the August Wilson Theatre, where Bill Murray is about to watch the Groundhog Day musical for the first time. Dead serious.

— Sopan Deb (@SopanDeb) August 8, 2017
Day one: Bill Murray Relives a Role, Seeing Broadway's 'Groundhog Day' – New York Times
The following night, he was back to see the show again:
THIS IS NOT A JOKE: Bill Murray went to see the Groundhog Day musical again tonight.

— Sopan Deb (@SopanDeb) August 10, 2017
Day two: Bill Murray Attends 'Groundhog Day' Again, and It Feels Like … Well, You Know – New York Times
Murray went on to enthuse about Groundhog Day and his experiences seeing the show on The Leonard Lopate Show – WNYC. Listen to the lovely interview here:

Further information about the show can be found on the Groundhog Day The Musical Page, including videos, tickets, the Original Cast Recording and you can DOWNLOAD the Lyric Book.