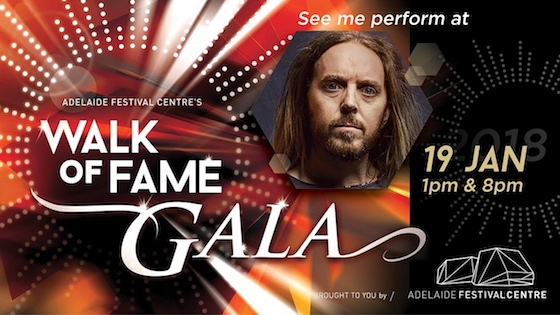 Tim will be performing at Adelaide Festival Centre's Walk of Fame Gala in January, 2018. He joins an amazing star-studded line-up of artists, already honoured in starry form on the walkway, including: Paul Blackwell, Greta Bradman, Rhonda Burchmore, Beccy Cole, Peter Combe, Slava Grigoryan, Nancye Hayes, James Morrison, Garry Stewart's Australian Dance Theatre and Niki Vasilakis, with the event hosted by the charismatic Todd McKenney.
There will be two concert extravaganzas on the 19th January at 1pm and 8pm.
Further information and Tickets can be found here.
The Walk of Fame Gala will celebrate the brand new Walk of Fame promenade, overlooking the River Torrens and the reopening of Adelaide Festival Centre's updated Festival Theatre.
Tim says: "I've always loved Adelaide. From playing with Eddie Perfect at the Cabaret Festival, through shows in tents in the Garden of Unearthly Delights, to playing with the Adelaide Symphony Orchestra, to having Matilda the Musical play at Adelaide Festival Centre, I have always loved the gigs, the audiences, and the place. It's a huge honour to be represented star-shaped in your pavement." 
The prestigious Walk of Fame will initially include more than 130 names and will be extended annually. A full list can be seen here.