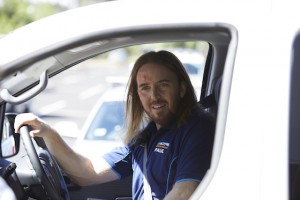 The first episode of the new six-part comedy series Squinters, created by Adam Zwar and Trent O'Donnell, airs Wednesday 7th February at 9pm on ABC with ALL episodes available on ABC iView, if you wanna binge.
The series tracks the lives and aspirations of five carloads of rush-hour commuters from Sydney's western suburbs, as they drive to work together in the morning and return home again in the evening, finding out how their workdays went in the meantime.
Tim plays delivery driver Paul, who starts an eco-carpool with his secret crush Romi (Andrea Demetriades) from Marketing. She's the woman of his dreams and she thinks he's kinda cute but she's a little wary of her new car-buddy…
The other commuters include: a single mum keen to avoid her teen daughter making the same mistakes in love, while juggling a new romance of her own; a clueless ex- school bully hitching a ride with the guy he tormented; best girlfriends whose friendship is tested when one becomes the other's unlikely boss; and a middle-aged man grappling with a flighty boyfriend, a possible redundancy and a recalcitrant dog.
Tim joins an extraordinary ensemble cast including: Academy-Award nominee Jacki Weaver, Mandy McElhinney, Miranda Tapsell, Damon Herriman, Sam Simmons, Andrea Demetriades, Wayne Blair, Justin Rosniak, Christiaan Van Vuuren, and Jenna Owen, along with young comic talents Susie Youssef (Rosehaven), Rose Matafeo (NZ's Funny Girls), Steen Raskopoulos (BBC's Top Coppers) and YouTube sensation John Luc (aka 'MyChonny'), as well as the UK's Nyasha Hatendi (Hulu's Casual).
Squinters is produced by the team at Jungle Entertainment (No Activity, The Moodys and the forthcoming Sando).