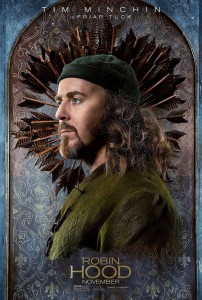 Robin Hood is in US movie theatres and UK cinemas TODAY!
It'll be in Australian cinemas tomorrow 22nd November. Worldwide Release Dates for #RobinHoodMovie here.
Taron Egerton will play Robin Hood, with Jamie Foxx as Little John, Eve Hewson as Maid Marian, Jamie Dornan as Will Scarlet, Ben Mendelsohn as Sheriff of Nottingham and Tim as Friar Tuck.
Interview (audio and a transcript) with Tim here talking about the movie, filming and his role. Some great images on there too.
Directed by Otto Bathurst and filmed in Croatia and Hungary, Robin Hood is a gritty new take on the classic story.